Posted by Corona Cigar Co. on Aug 25 2020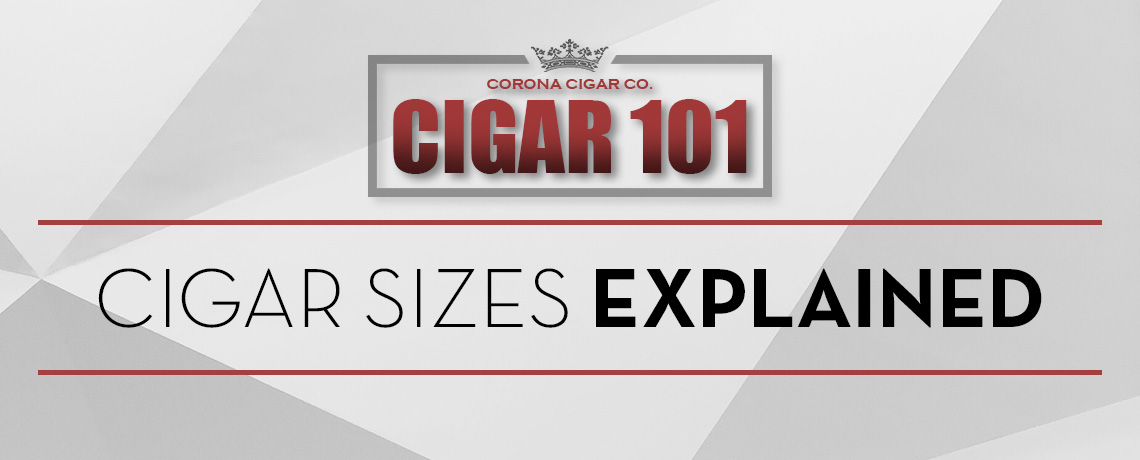 Cigars Can Come In All Shapes & Sizes!
I'm sure you have noticed - and probably have been confused by - the MANY different shapes and sizes that stogies are made in. While this can vary greatly from brand to brand, here are some general guidelines that are followed commonly by most manufacturers, in order to help you better understand what those sizes mean. A cigar's "size" is measured by the overall length and ring gauge. "Ring gauge" refers to the diameter of a cigar, as broken down into 64ths of one inch. Side note; cigar sizes do not necessarily determine something like strength, which is ultimately determined by the overall blend of tobaccos used.
Let's get down to it.
The first category we will be discussing falls under the category of Parejos. These are probably the shape that you are most accustomed to seeing and are classified by straight-sided cigars that can be either rounded in shape or box-pressed.
Corona: The golden standard by which most other sizes are measured against. Traditionally they are measured at about 5 ½ -6 inches long, with a ring gauge somewhere around 43-44. I find the Tabernacle Havana Seed CT #142 to be a great tasting example in this size.
Petit Corona: This might surprise you but picture a corona… only smaller! They are generally shorter in length, with a small-sized ring gauge of less than 42. For big flavor in a small package, try out the Davidoff Millennium Sungrown Petite Corona.
Churchill: Legend has it, this was the only size of cigar that Sir Winston Churchill himself proudly puffed on. Truth is… that is not entirely true. The statesman was known to enjoy a variety of shapes and sizes, although he was rather fond of this classic Cuban configuration. A larger version of the Corona family format, the Churchill traditionally measures 7 inches with a 47-ring gauge. Although, these days there are many size variants of this classification. Frankly, I would be remiss to not suggest the Davidoff Winston Churchill as a fantastic choice in this size.
Robusto: You've seen this one a time or two. Short, fat, and one of the most popular sizes in North America. Generally these are measured about 4 ¾ -5 ½ inches long, with a 48-52 ring gauge. There are tons of these on the market, but I would suggest checking out the Aladino Corojo Reserva Robusto for flavorfully old-fashioned smoke.
Toro & Corona Gorda: Another wildly popular size, toro and corona gorda are used interchangeably to describe this size in particular. Traditionally they measure between 5 ½-6 inches, and around 46-50 on ring gauge. The Liga Privada Undercrown Toro is a fan favorite.
Double Corona: No, it is not literally a "double-sized" corona with a 12 inch length and 88 ring gauge. The usual measurements of this smoke are about 7 ½ - 8 ½ inches, by 49-52 ring gauge. Think of a beefy toro, like our Corona 20th Anniversary FSG Double Corona.
Panatela: A more traditional & elegant size, it is not as increasingly popular these days as it once was. They are long and thin, and those who enjoy them tend to seek them out religiously. They are found around 5-7 ½ inches, with a teeny ring gauge of 34-38. The elusive Lancero also falls into the same category of panatela sizing. A favorite of Pete Johnson, you might want to have a go at this Tatuaje Lancero Collection here.
Lonsdale: Keeping in step with smaller ring gauges, the Lonsdale is longer than a corona, but thicker than a panatela. Classically they measure 6 ½ inches by 42 ring gauge, with some variance. Oliva Connecticut Reserve is a wonderful form of this.
Now that we have gotten through most of the popular parejos, let's take a dive into Figurados! This category includes any cigar that is not a straight-sided cylinder in shape. Figurados can also be rounded or box-pressed.
Pyramid: Not exactly the same as the wonders of the world in which it shares a name, however, similar in having a pointed head. The pyramid cigar is classified as one which features a head that is tapered into a point. Usually measuring somewhere between 6-7 inches in length, with a wider foot measuring around 52-54 ring. The Julius Caeser Pyramid is a must-have in this format.
Belicoso: While they might look the same at first glance, belicosos are similar to pyramids, only shorter, and often with a slightly more rounded head. They generally are found around 5-6 ½ inches, with a ring gauge of about 50. Take the FSG Belicoso for a spin.
Torpedo: Traditionally torpedos consisted of a pyramid shaped cigar, with a closed foot and slight bulge in the center. These days most cigars that are pyramid shapes, are also torpedo shapes. For a newer take on the classic Padron family blend, try out a Damaso No. 34 Torpedo.
Perfecto: Similar to traditional torpedos, they are shaped with a closed off foot, a bulge in the center, and a slightly rounded head with a noticeable taper from end to end. Perfectos can vary greatly in size, anywhere from 4 inches, all the way up to 9 inches long, with a ring gauge somewhere around 38-48. Davidoff Short Perfecto is a classic and flavorful blend of this size.
Now that we have taken a dive into the depths of cigar sizing, you can now more confidently choose your next stogie like a pro!
And as always, reach out to us with any questions you might have. Our knowledgeable staff is always here to help you choose the perfect cigar for you!
Writer, Corona Cigar Co.