Posted by Corona Cigar Co. on Nov 2 2016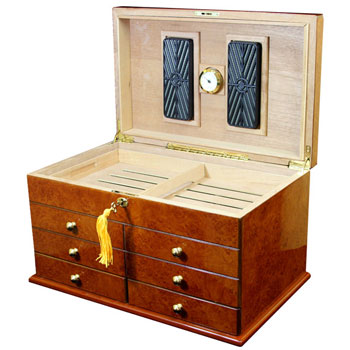 Yes, You Need a Quality Humidor
Anyone who buys quality cigars should also invest in a quality humidor. It's as simple as that.
When cigars get too moist, they will not stay lit. They swell up from all the water content and become difficult to draw. Even worse, they can grow mold. Nobody wants to smoke a soggy and moldy cigar - ever.
Dried out cigars are equally unsatisfactory. The cigar will start to shrink and the wrapper will crack. The result? A poor draw and harsh smoke.
Cigars like to be kept at a moisture content of around 70-75% relative humidity. To achieve this you most certainly need to keep your cigars in a controlled environment, namely, a humidor.
If you are a cigar aficionado who prefers the finer things in life, you will also want to choose one of the finer humidors on the market today.
Here are a few things to consider when selecting your humidor:
Does the humidor maintain a steady 70-75% relative humidity
Does your humidor come with a hygrometer to check the humidity level
Are the outer and inner aesthetics to your liking
Is the humidor made from quality or exotic hardwoods lined with solid cedar and rust-proof hinges
Is the humidor the right size for your supply
Are your cigars easily accessible
When you invest in fine cigars it only makes sense to protect your investment. Corona Cigar Co. is committed to providing the finest cigars and humidors for your enjoyment. Visit us today and continue enjoying the finer things in life!