Posted by Corona Cigar Co. on Feb 13 2018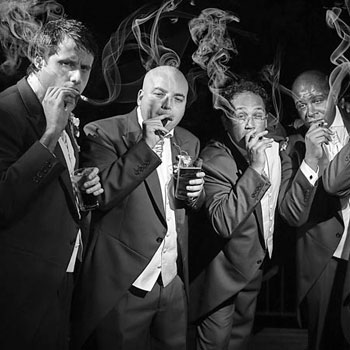 Why New Cigars Are the Perfect Gift for Your Next Bachelor Party
Were you recently invited to a bachelor party? If you're looking for the perfect gift, look no further than our cigar store. After all, giving someone a stogie is a timeless way to celebrate a special occasion. Regardless of whether it's your childhood best friend or your brother who's getting hitched, you'll be considered a hero if you bring fresh cigars for everyone to enjoy. Below are some of our top recommendations for picking out quality cigars for your next bachelor party.
Tip #1: Buy Beginner-Friendly Cigars
A novice cigar smoker won't be able to notice/appreciate the rich blend of premium tobacco in an expensive cigar. That's why you should stick with cigars like mild or medium-bodied cigars that are great for first time smokers. Starting with a more mild cigar is great because you don't want to overwhelm the novice smoker with too much because it may ruin their entire smoking experience.
Tip #2: Bring a Variety of Cigars for Everyone to Try
It can be hard to select cigars for a large group of people, especially since some of them may not be a cigar aficionado. If you aren't sure if there are any smokers in the group, don't worry. Even non-smokers are typically open to celebrating a wedding and other special events with a cigar. We recommend that you bring a variety of stogies to the party, especially since everyone is going to have a different palette or taste preference.
Tip #3: Get Advice from a Cigar Expert
Finally, the best way to find cigars for your next bachelor party is to stop by one of our stores. Our cigar experts can help you find some cigars that'll make you the hit of the party. We have a large selection of brand name, high quality cigars for you to choose from. You can also grab a cigar cutter, lighter, travel kit and other cigar accessories while you're in the store so you'll be ready for anything on the big day.
Please Contact Us today to learn more about our brand name cigars.