Posted by Corona Cigar Co. on Nov 2 2016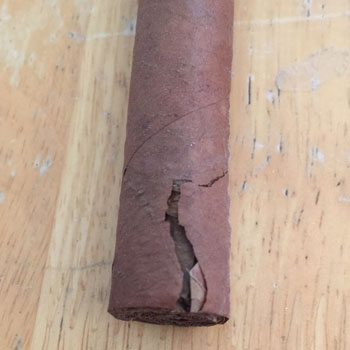 What Causes Cigars to Crack?
There is nothing worse than the feeling you get when a premium cigar you were saving for a special occasion ends up being worthless, because it is riddled with cracks. The truth is, fine cigars are much more finicky than other luxuries like wine and caviar. Cigars require some TLC.
If you're wondering what is causing cracks in your cigars and how you can prevent them, we're happy to point you in the right direction.
Drastic changes in temperature can cause the cigar itself to expand and retract. As the cigar expands and retracts over time, cracks will form in the wrapper, degrading the preservation and quality of the tobacco. Even temperature shifts of just 10 or 15 degrees can cause problems. Cigars will also crack if they become too dry.
Humidors are important because they help keep cigars from drying out and they regulate the temperature of the cigar. If you are already storing your cigars in a humidor and you are still seeing cracks, you may want to take a look at your hygrometer. It could be in need of replacement or calibration.
If you have never invested in a humidor for your cigars, you will be amazed at the difference it makes in preserving the quality of your cigars. You can get an entry-level humidor, like this Capri Glasstop 25ct Humidor for close to the price of a couple cigars. Or you can purchase a top of the line humidor that will hold over 100 cigars, like the Nottingham 200ct Humidor
If you have questions about the proper storage of cigars, or you want to buy cigars to fill up your humidor at amazing prices, contact Corona Cigar Co. today.