Posted by Corona Cigar Co. on Nov 15 2016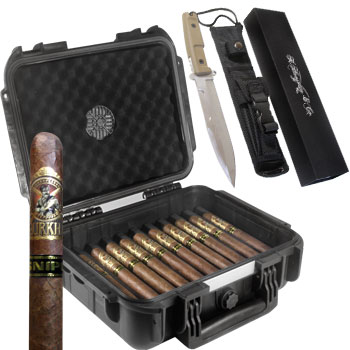 Try These Elite Special Edition Cigars
"Better to die than be a coward" is the motto of the world-famous Nepalese Gurkha soldiers who are an integral part of the British Army.
It could also be the motto of the Gurkha Special Ops Sniper Churchill Cigars. They are certainly boxed to be ready for war.
The cigars come in a pelican-style, waterproof case, with three layers of foam inside that hold 20 cigars in two layers of 10, and a custom made knife in its own foam cut out. The case is a travel humidor too.
Before the Gurkha Special Ops were available to the public, 100 special ops cigar sets were given to elite troops serving overseas in combat and other danger zones. The sets were also released on a first come first serve basis to vetted applicants and were only shipped to FPO/AP "in harm's way."
These limited edition cigars in their case and with their knife, are now available to the public. The cigars are medium-to-full-bodied with a Dominican wrapper, Indonesian binder, and Dominican/Nicaraguan filler. Earthy and woodsy notes dominate in this cigar. Chocolate and just a hint of pepper finish off the flavor. One reviewer said of the Gurkha Special Ops: "This is an iron fist in a velvet glove. Strong and smooth."
The Gurkha Special Ops, are named after elite British troops, given to US elite troops, and are overall elite cigars. They are available at our online store as are many other fine cigars. Please contact Corona Cigar Co. if you are interested in the Gurkha Special Ops or any other fine cigars we have to offer.