Posted by Corona Cigar Co. on Nov 2 2016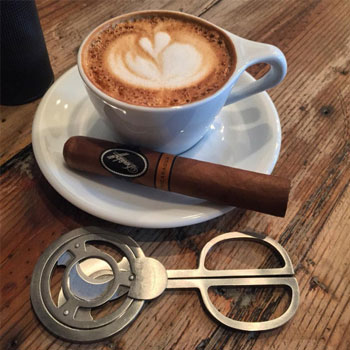 Try A Puff With Unusual Stuff
"Relationships don't always make sense. Especially from the outside" ― Sarah Dessen
How would you like to form a new relationship with your favorite cigar? Here are some unusual pairings you might want to try!
COFFEE: Match a medium bodied cigar with a nutty and/or slightly peppery flavor with a medium roast coffee. Try a full-bodied cigar with a full-bodied roast coffee. The idea is to match the strength of the coffee to your cigar.
TEA: Tea is a superb compliment to almost any cigar. Sweet tea or iced tea enriches cigars that lack sweetness. The lighter the tea, the lighter the cigar, again match the strength of the tea to the strength of the cigar.
SOFT DRINKS: The taste of ginger ale goes wonderfully with a full-bodied cigar, drawing out spicy notes. Some smokers like a cold cola to tune their taste buds while smoking. Sweeter cigars might get lost in the mix, but an earthy, leathery smoke might do well with cola. Similar to ginger ale, root beer has the strength to pair up with any cigar, even the full-bodied range. Root beer brings out the spice of a cigar, matching the complexity of the tobacco. Dr. Pepper is the odds-on favorite when it comes to pairing cigars with carbonated sodas. There are a large number of cigar smokers who swear by the soda as the perfect cigar pairing. Dr. Pepper is a 'complex' soda, and can be matched with a similarly complex cigar.
FOOD: Try cold, fresh fruit with spicy cigars. It's refreshing to the palate, a pear, plum or sweet-tasting grapes especially helps take some sting out of a spicy smoke while upping the flavor of the fruit. A quality artisan chocolate enhances a good cigar. Dark chocolate is bitter and works well as a starting point, ingredients like vanilla, spices, coffee or even chili, add a new dimension to the flavor. Some prime your taste buds for the complex flavors of a cigar, others enhance lingering flavors between puffs. Graycliff offers chocolates from dark to white that heighten your smoking pleasure.
Take your relationship with your favorite cigar to a new level by trying some of these ideas, or try a pairing you create yourself. Whether you pair it with something unique or you just want a fine cigar, contact Corona Cigar Co. today for more information.