Posted by Corona Cigar Co. on Nov 2 2016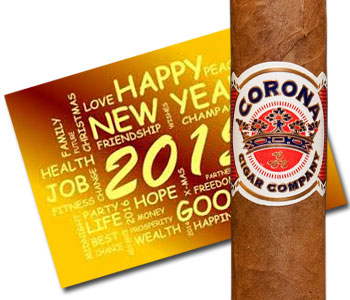 Toast the New Year with Cigar Samplers
Certain holidays and festivities are associated with distinctive symbols. What would the Fourth of July be without fireworks, for example, or Halloween without a pumpkin? And where would New Year's be without a party hat and a fizzing glass of champagne? Throw in an old man with a scythe and a newborn baby, then the list of New Year's symbols is complete.
But while it's great to take part in the traditional celebrations, it's also great to spice it up a little. That's why bringing a cigar sampler to a New Year's Eve party—or enjoying one with a partner or close friends as you watch TV—is such an inspired idea.
Why? First, cigars are traditionally a sign of achievement. They are a sign of respect for the achievement of a boss. By puffing a cigar on New Year's, you are honoring the achievement of the past year—and even more, signifying that you expect the coming year to be a year of greater achievements.
Next, cigars are traditionally given as a congratulation. They connote congratulations, for instance, when they are given to new fathers on the birth of a baby. By drawing on a cigar, you are taking that one step further and congratulating all your friends on the birth of a new year.
To enhance the upcoming luck of the new year, for example, you might try our Lucky 7 sampler. It allows enjoyment of some of the best cigars in the world, including Constantine, Corona Honduran Selection, Corona Gold and Cielo, all available at Corona Cigar Co.
Contact Corona Cigar Co. today for cigars for your New Year's celebration!