Posted by Corona Cigar Co. on Nov 2 2016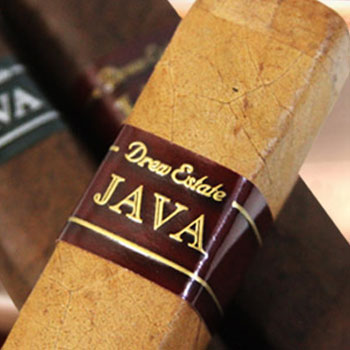 The Remarkable Java by Drew Estate Cigars
While Java Cigars may not be the latest from the partnership of Drew Estate Cigars and Rocky Patel, it is still one of the best choices on the market for those looking for an exclusive and satisfying coffee flavored smoke.
Considered medium strength cigars, they are surprisingly mild to smoke. A unique blend of aged Nicaraguan tobaccos "infused with espresso, chocolate, and dark coffee beans" come together to create a relaxing smoking experience that satisfies without ever feeling too strong. Java have been said to be almost like smoking cocoa puffs. While this may not be completely true, it does lend to one's imagination.
The Javas are available with Connecticut and Maduro wrappers and come in several preferred sizes, from the Petite Corona to the Super Toro; a personal favorite is the Java Corona Maduro. This line is also available in several flavor textures as well, including a touch of Mint, Latte, or Robusto, each of which will satisfy the most discerning cigar smoker.
This is a great choice of cigar that can be enjoyed just about anywhere or in any scenario. Whether out with friends or by oneself, enjoying the game and the grill, or just some quiet personal time at home, a Java adds dimension to the experience. Stressed out from work, it all goes up in smoke with a Java.
Please contact us to learn more about Java Cigars, or any of the other select Drew Estate Cigars. If one is looking for an excellent tasting cigar that is not overpowering, Java Cigars are prime choices. The day can only get better with one of these.