Posted by Corona Cigar Co. on Feb 6 2020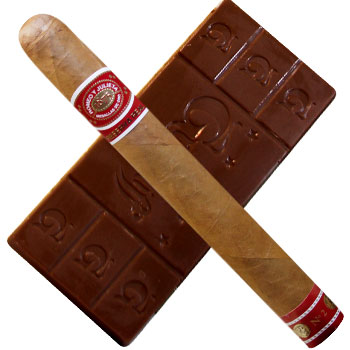 The Perfect Valentine's Day Gift: Romeo y Julieta Cigars and Chocolate
It's almost Valentine's Day. You know what that means. A box of chocolates. A bouquet of roses. A nice dinner. This is for a relationship of Significant Others. Valentine's Day could also mean flirty stuff, if you're not significant others. A card. An invitation to a drink after work.
Well, how about choosing chocolate from us and then adding an unusual gift--cigars named after one of the great relationships of all time? Yes!
First, we offer one of the finest chocolates in the world. Our Graycliff Dark Chocolate is made from the best cocoa beans, tenderly roasted and serving as the base for an exquisite chocolate.
Second, check out our Romeo y Julieta Cigars. They are named for Shakespeare's most famous lovers, a pair who would do anything to be together. Romeo y Julietas exhibit sophisticated flavor, smoke that has one of the best aromas in the world, and an excellent draw.
If you're a woman looking for a Valentine's Day gift for a man, there is no better choice than a Romeo y Julieta. It signifies acceptance of something important in his life. The purchase of a gift also means that you are true partners: you are not only waiting for his tokens of "I heart" affection but supplying your own.
If you're a man looking for a Valentine's Day gift for a woman, and you love the leaf, and she knows you love the leaf, a Romeo y Julieta Mini Cigar, for example, is a chance to make puffing on a cigar one more thing you do together, like playing tennis or watching Game of Thrones.
If you aren't significant others, a Romeo y Julieta will break the ice on Valentine's Day. You'll have a built-in topic of conversation.
If you will be celebrating in a place with lots of Valentine's Day stuff—a nice restaurant, say, that is a haven for couples on the holiday—a gift of cigars and chocolate steps out of the ordinary. American Beauty roses are fine. But they are very common as a Valentine's Day gift. The gift that's uncommon is the cigar.
Contact Corona Cigar Co. to get your gift for that special someone in your life.