Posted by Corona Cigar Co. on Nov 2 2016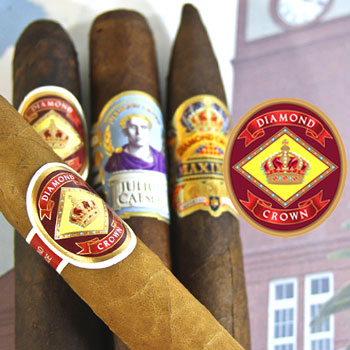 The Mild, Medium, and Full Bodied Variations of Diamond Crown Cigars
Consistently rated as one of the world's most exceptional cigar brands by cigar lovers worldwide, Diamond Crown Cigars are handmade by master cigar rollers in the Dominican Republic with some of the finest aged tobacco the area has to offer. It is a brand steeped in tradition, yet consistent with all the modern trends and standards for quality and taste. Consider the following three cigar brands from the Diamond Crown company that make up a sampling of mild, medium, and full-bodied smokes.
Mild – Like most of the company's offerings, Diamond Crown's Natural brand cigars are handmade by master rollers under the direct supervision of Carlos Fuentes Jr. They feature a golden brown, double fermented Connecticut wrapper, but are also available in a dark, broadleaf maduro wrapper for an added touch of sweetness. An excellent choice for an easy, yet elite smoke.
Medium – Small batch greatness is achieved by this limited edition cigar made in honor of the company's founder, J.C. Newman. The Julius Caesar is a medium bodied smoke with excellent tobacco aged for five years and a wonderful Ecuadorian Habano wrapper. If you appreciate fine cigars, sample one of these for a rich and distinctive cigar smoking experience to immerse your guilty pleasures in today.
Full – The Gladiator of the Diamond Crown brand, Maximus cigars are not for the feint of heart, but they are for those who can appreciate a truly full-bodied and bold smoke. Made with specially aged Ecuadorian tobaccos, this cigar provides a surprisingly smooth and balanced flavor to go along with its full body, earthy notes, and ever so subtle hints of cedar spice.
We offer an impressively large selection of Diamond Crown Cigars and countless other fine cigar manufacturers online. Please contact Corona Cigar Co. today for more information or browse our website at your leisure to research and find the best cigars and accessories for your enjoyment.