Posted by Corona Cigar Co. on Nov 2 2016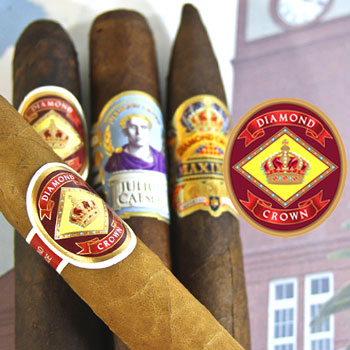 The Meaning of Quality: Diamond Crown Cigars
With their perfect variety of wrappers and their full, creamy smoke, Diamond Crown Cigars are the perfect mild-to-medium bodied cigars. Holding a steady earth flavor with a hint of bitter almond and strong cedar, this hand-made smoke will last a full hour-and-a-half, burning evenly and drawing smoothly the whole time.
Created by Stanford Newman in honor of his father, each exclusive Diamond Crown is made with a full 54 ring, allowing for the blend of 6 or 7 leaves rolled into the thick body, in sizes from the 81/2 inch Robusto No. 1 to the smaller, but still solid, Robusto No. 8. Each cigar receives special treatment from a master roller, being sculpted into the most quality, most artful cigar possible after every leaf of tobacco has been aged for a minimum of five years.
Because of this careful and dedicated creation, the ash holds strong and the flavor is impeccable. If you need to kick back and relax after a long day, nothing will soothe your senses quite as well as the Diamond Crown's creamy smoke and outdoorsy flavor. Perfect with coffee, this cigar makes it easy to take it easy.
It is no surprise that such a quality cigar would be produced in limited quantity and only held by premium fine tobacconists. We at Corona Cigar Co. offer several kinds, sizes, and packages of the Diamond Crown, at a price that is affordable, yet worthy of the great detail and craftsmanship that goes into making each cigar. For information about ordering, or if you have any questions about the Diamond Crown, please contact Corona Cigar Co. today.