Posted by Corona Cigar Co. on Nov 2 2016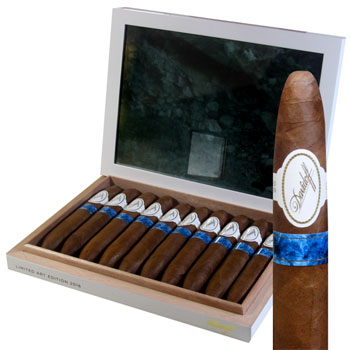 The Creative Side of Davidoff Cigars: Art Edition
In 2014, Davidoff cigars released a unique product called the Art Edition. This project paired the cigars with the work of rising artists. The Davidoff Art initiative was the brains behind the program whose mission is "to make a lasting contribution to the contemporary art field, in particular in the Dominican Republic and Caribbean region". This year, we see the return of the Art Edition yet this time, with a different take.
Davidoff Cigars: Art Edition With A New Look
While not as beautiful as the 2014 variety, this year's Art Edition Davidoff cigars feature a mottled brown wrapper that highlights the small veins on the leaf. When it comes to feeling, the art edition cigars are luxuriously soft and slightly oily. This gives one a pleasing experience. There is a gentle barnyard aroma to the wrapper featuring some light scents of hay, small hints of leather, vanilla and a touch of spice to finish it off. Compared to 2014, this cold draw of the 2016 version is vastly different. One will find large, fruity hints of orange marmalade, fig, and berries throughout the burn.
The Artistic Burn of Davidoff Cigars
Users describe the first third of the art edition as a bit harsh. A lot of pepper seems to up front, but eventually, a smooth and mellow sweetness take over these Davidoff cigars. Some users describe the first third as a fast burn but later on, it will even out and you begin to see the qualities of the classic Davidoff profile.
Art Edition Davidoff Cigars: The Final Take
Overall, the 2016 art editing is a good experience that everyone should try. Despite a rocky start, in the beginning, you are rewarded with strong, caramel sweetness that delicately lingers. Towards the end, this cigar will continuously produce a smooth, cool smoke without any harshness. While perhaps not as good as its 2014 predecessor, this limited Art Edition is well worth a try.
Please feel free to Contact Us regarding other variations of Davidoff cigars or the vast number of cigar brands that we carry.