Posted by Corona Cigar Co. on Nov 2 2016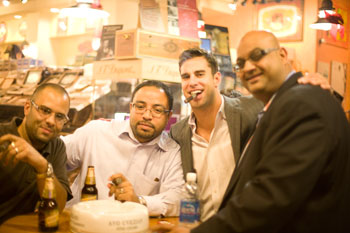 The Cigar Lounge Trend
Cigar lounges are becoming more and more frequent through the U.S. The trend is driven by the rise in popularity of cigars, but also by the ubiquity of smoke-free restaurants—which don't make smokers feel welcome. In a cigar lounge, people who like to smoke cigars can do precisely that, without interference. Many lounges also serve fine liquors and wines, have an assortment of the finest cigars, and can be very upscale.
Below, we present a few tips if you have been thinking of trying a lounge.
First, it is the custom to use one of the cigars available at the lounge. No matter how proud you are of your cigar knowledge, it is poor form to bring and smoke one of your own in a lounge. You wouldn't take a homemade sandwich to a restaurant, right? Or a pre-poured open cup into a bar?
Second, unlike many social establishments, many regular cigar patrons do not whip out their smartphone and take pictures—selfies or of anyone else. Not to say it can't be done, especially in today's times with Facebook, Instagram, Pinterest and many more social media outlets, but cigar lounges are traditionally upscale and are often about a blend of decorum and relaxation. People, especially cigar smokers, like their privacy and are continually looking for places to escape from the proverbial noose of technology. It is poor form to interrupt that privacy with a bright flash.
Third, don't expect to be able to strike up a conversation with everyone you meet. Many people come to puff quietly and relax, not to meet the guy or gal in the chair across the room.
Fourth, don't talk constantly about how cool cigar smoking is. They know it is.
Like many lounges, our lounges serve many fine liquors: one of the world's largest selection of fine cognacs, aged single-malt Scotches, small-batch bourbons, prohibition-era whiskies and pre-embargo Cuban rums. We also offer an extensive port and wine selection featuring the best from Spain, Chile and Argentina.
Want to discuss cigars? Contact us.