Posted by Corona Cigar Co. on Aug 25 2020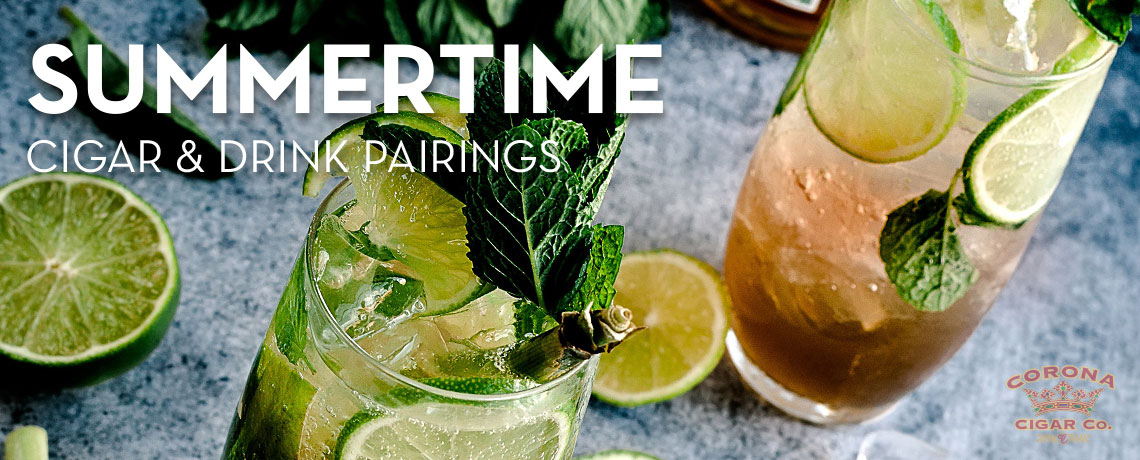 Stay Cool with these Summertime Cigar and Drink Pairings
We all enjoy a good adult beverage alongside a cigar, right? Scotches, whiskeys, or bourbons, served neat or with ice are always a staple among stogie connoisseurs. But when the temperatures start climbing and the sweat beads start forming, sometimes you want something cool and refreshing that pairs well with a favorite stick. In these ever-changing times, a lot more of our cigar time is spent on home patios and backyards, but there are still plenty of ways to make the most of the experience. So find a piece of shade, grab yourself a premium cigar, and enjoy one of these summertime cocktails that are sure beat the heat!
Classic Mojito
The iconic Havana classic, perfectly refreshing and balanced. The subtly sweet white rum pairs great with milder cigars and Connecticut shade-grown wrappers with smooth, creamy profiles to compliment the bright flavors of a Mojito. You can even swap the white rum for a dark or amber varietal, and pair with a smooth oily maduro wrapped cigar. Try this recipe with a Diamond Crown Natural for a well rounded flavor combination.
Gin & Tonic
Before you say "Gin doesn't go with cigars!", give me a chance to explain. With the increasing popularity of craft gin, and flavor profiles ranging from sweet to dry, there are numerous pairings that can be made with this uniquely botanical beverage. The classic two ingredient G&T goes best with lighter smokes, and depending on the brand of gin you choose, it will compliment the unique flavors of both cigar and cocktail. A palate-pleasing Davidoff Tampa Exclusive is a great addition to this 19th Century cocktail classic. So pour up a fizzy, crisp beverage with this recipe, and don't forget the lime garnish!
Long Island Iced Tea
Once in a while a drink comes along with an unassuming name, and a surprising punch. Enter, the Long Island Iced Tea. It's bold, boozy, and with a glassful of ice, is sometimes just the trick to wrap up a long summer day. It's a bold drink, yet still refreshing and easy to drink, and goes nicely with a spicy bold smoke. The alcohol punch and sweet soda sparkle find balance among the peppery, earthy flavors of a dark aged maduro wrapper. Gather all the ingredients needed to make this recipe, and try it out with an Army of Angel's for a bold kick. Just remember to sip it slow!
Pina Colada
Does anything feel more like summer than an ice cold Pina Colada while swinging in a hammock strung between two palm trees? Maybe you don't quite have the palm trees or the hammock, but you can sure recreate those summertime vibes wherever you are! This tropical favorite is sweet and refreshing, and when made with quality ingredients, can be an upscale take on the cruise ship classic. You can pair this drink with a mild cigar, or go for the opposites attract approach and try it with something a little more robust to counterbalance the fruity, sweet, and creamy nature of the cocktail. A dark, oily, nutty maduro is a complimentary choice, and you'll be pleased with the dance of flavors between your beverage and your stogie. Pro tip; You won't even need a blender with this recipe, and you can keep the Florida summer vibe going with an FSG by Drew Estate to pair.
Moscow Mule
The condensation dripping down from a copper Moscow Mule mug is one of the most inviting things to see on a warm day. Made with vodka, it's not really the alcohol that brings the flavor to the table here, but the ginger beer and lime. The bright ginger zing pairs perfectly with a medium to full bodied smoke, and compliments woody and spiced flavors of Nicaraguan tobaccos. A simple beverage with a clean spiced flavor, you'll want to add this pairing to your list of summer to-do's. Grab a Cuban-inspired Finca Santa Fe FSG by Cordoba and Morales and try this simple recipe. You won't be disappointed!
Margarita
One of the most popular cocktails of all time, and for a good reason. It's tangy, sweet, oh so invigorating, and guess what? It pairs phenomenally with cigars! A medium bodied smoke with layers of creamy and earthy flavors will go nicely with the crisp citrus, and agave sweetness of this famous cocktail. Tequila with a salty finish helps accentuate the properties in a well blended stogie. Make sure you skip the pre-made mix, and make this one from scratch, then light up a Montecristo Epic No. 2 to complete the experience.
Old Fashioned
Still want to keep the brown liquor going with a richly flavored cigar? Look no further than the Old Fashioned. A classic drink that has held strong for 200 years, the addition of bitters add an enticing layer of flavor to the rich oaky heat of bourbon. A nice hunk of ice and a slice of orange peel will keep this cocktail smooth and refreshing while you enjoy a dark maduro cigar. Leather and cocoa notes will mesh superbly with caramel, oak, and vanilla notes of a quality bourbon. Don't compromise, grab a good quality bourbon and pour up this recipe alongside a Sin Compromiso Gran Elefante for a richly flavored pairing.
Corona Cigar Co. has tons of cigars to keep stoking the summer smoke, and a wide selection of carry-out bottles for your home bar as well! If you have any questions about choosing the perfect cigar pairing for you, contact us to talk to one of our cigar experts today.
Writer, Corona Cigar Co.