Posted by Corona Cigar Co. on Mar 13 2018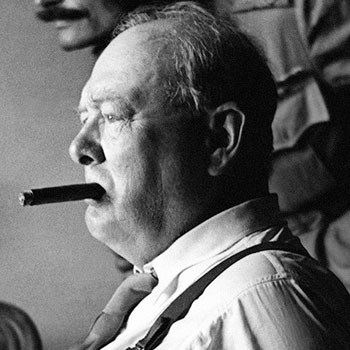 Sir Winston Churchill's Favorite Cigar? Romeo y Julieta
In his nine-decades-long life, British Statesman Sir Winston Churchill, it's been estimated, smoked a quarter-of-a-million cigars! Romeo y Julieta were his favorite.
His passion – yes, it truly was a passion – for cigar-smoking began in Havana, Cuba, when the 21-year-old was sent there with fellow Brit officer, Reginald Barnes, to observe, and write about, the Spanish/guerilla conflict.
Recognizing Sir Winston in photographs is a snap. You'll know him by the cigar clutched between either his teeth or his fingers, and the Lock & Co. Bowler hat or Homburg on his head.
Hatter Lock & Co. has its own claim to fame. It's the oldest hatter in the world (1662). They once received "A postcard from abroad addressed to 'The Best hatters in the world, London.'"
The man was...
... born into an aristocratic family, on November 30, 1874. His mother was American-born Jennie Jerome, and his father was English-born Sir Randolph Churchill.
... a student at Sandhurst Military Academy and lived an officer's life for a time.
... called fearless and courageous. He left an incredible, indelible mark on his world as author, painter, politician, and statesman.
... the subject of a movie, "Darkest Hour," about his leadership role during World War II, 52 years after his death. It's been nominated for six Academy awards.
... a cigar-smoker extraordinaire. A cigar was named after him.
Like father, like son?
In several notable ways, son was like father.
Both were elected to Parliament.
Both were knighted.
Both died on the same day, seventy years apart.
And both smoked tobacco. The father liked his cigarettes. The son loved his cigars -- and intensely disliked cigarettes. Chuckling, he once told his cigarette-smoking valet, "Too many of those will kill you."
Sir Winston's cigar-smoking habits
He smoked as many as 10 cigars a day.
But not all the way. Sometimes, he chewed on them after they'd burnt out.
He never used a cutter. He'd received a number of them from thoughtful gift-givers but chose one to carry on his watch chain.
He "invented" the "bellybando." Made from brown paper, he'd glue it to one end to keep the moist cigar from fraying AND it controlled the amount of nicotine he took in.
Lady Clementine Churchill invented a "cigar bib" to catch her husband's cigar ashes when he smoked in bed.
A byproduct of cigar-smoking, ashes can – and did - burn holes into Churchill's suits – and hostesses' expensive carpets.
In a room near his study at Chartwell, his country manor, he maintained a stock of up to 4,000 cigars.
His traveling "companion" was a silver, pagoda-shaped ashtray, a gift from a friend.
One dinner guest said of Sir Winston, "He is an exceedingly kind and generous host, providing unlimited Champagne, cigars and brandy."

"Real brandy," said author William Manchester, "was usually consumed after dinner along with, of course, a cigar."
One half-smoked cigar was scooped up by a Brit airman in a Paris airport in 1947. It later sold for $12,000 to an unknown American buyer.
In May 1940, Winston Churchill served his beloved England as Prime Minister, shepherding fellow countrymen to victory.
In 1953, he was knighted.
That same year, he won a Nobel prize for Literature.
On January 24, 1965, nine days after he suffered a stroke, Sir Winston Churchill passed away, at age 90.
"Darkest Hour" star Gary Oldman smoked cigars throughout filming. He jokes that, while fellow cast and crew enjoyed their Christmas holiday, his gift to himself was a colonoscopy. He no longer smokes cigars.
Have you tried Sir Winston's favorite cigar yet? To view our robust inventory, contact us.