Posted by Corona Cigar Co. on Nov 2 2016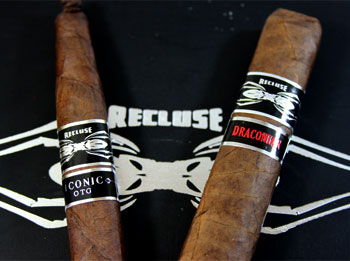 Scary Good Cigars
Black and brown recluse spiders are feared by many. So much so, that they didn't even make their way into the 1990 horror hit, Arachnophobia. Non-poisonous spiders from out of the country were used instead. So why are we talking about the evasive and feared recluses today? Well, 'tis the season for scary movies and we've got cigars by J.R. Dominguez that will help send chills down broadleaf lovers' spines.
Dominguez does some of his best work in the Dominican Republic, where large spiders are common place, including 12-inch long citharacantuses. Trust us cigar lovers; no one actually wants to run into one of those. But what everyone is likely to enjoy smoking during horror movie night is a case of Recluse OTG Kanu No. 2 cigars. Fermented beyond perfection, they're scary good, medium to full flavor cigars.
Each hand-rolled thriller sports tobaccos from Brazil, the Dominican Republic and Cameroon. And they're just one offering in the Recluse line. We've got Recluse Draconian and Recluse Amadeus on hand too. Although they share a birthplace, they differ greatly from the Recluse OTG cigars in terms of wrapper and flavor. The first cigar boasts a Maduro wrapper and the second one is cradled by Connecticut Shade from Ecuador.
As such, one cigar selection has far-reaching undertones of leather, spice and coffee with cream whereas the other does not. It has recognizable hints of cedar and sweet cocoa. The OTGs, on the other hand, inspire dreams of chocolate covered cherries and walks in the autumn woods. Let's just hope those walks don't come with a side order of gigantic, prehistoric looking spiders!
And if spider-licious cigars are not enough, calm those fears friends! We've got cigars that are bound to be the life of the party. Try the Tatuaje Pudgy Monsters for a limited time only this season.
To learn more about them and the Recluse line of cigars for autumn, please contact our Corona Cigar Company team today.