Posted by Corona Cigar Co. on Nov 2 2016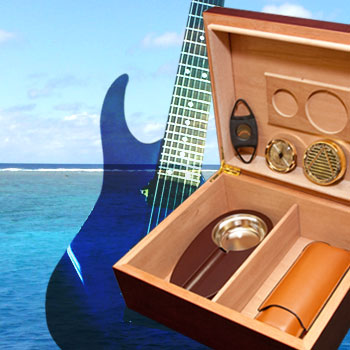 Rock the Seven Seas with Hot Humidors, Cool Cigars and America's Legends
Okay...quick! What do rock legends, humidors and cruise ships have in common? Give up? The answer is, they're all ready to hit the world's open oceans in the days ahead. Yes, that's right. There are Rock Legends Cruises available and they allow cigar smoking onboard. So, all you need to chill out with the music legends of your youth are some cruise tickets, an assortment of rockin' cigars and cool humidors. Now we can't help you get the cruise tickets, for that you're on your own. But we do know where you can get those rockin' cigars and the hottest humidors - Wink! Wink!
At Corona Cigar Company, we have several humidors that are tailor-made for cruising the open seas with rockers like Lita Ford, Kip Winger, Alice Cooper, Cherie Currie, Joel Hoekstra and Don Felder. They are the Admiral 100-Count, Old World 100ct Humidor, and the Corona Cigar Company Travel Humidor Series. The travel series features three waterproof humidors, which hold anywhere from five to 15 cigars. As for the others, they're great for extended cruises and partying like rockstars.
You can fill them up with any number of cigar brand offerings and pass around the broadleaf to all of your cruising buddies. Of course, if you want to keep the cruising theme going, we'd suggest choosing Graycliff John Howard Graysmith Buccaneers or Graycliff Black Pirate Cigars. They've got that pirate of the high seas feel. Plus, they are currently on special. So if you flip for select boxes, we'll give you a few extra cigars, a new ashtray and free shipping. Now that's rockstar baby!
To learn more about our sea-worthy humidors, rockin' cigars and smoking accessories, please contact us at the Corona Cigar Company. We'll have you hooked up and ready to party with America's legendary musicians before you can say, "1980s power ballad."