Posted by Corona Cigar Co. on Nov 2 2016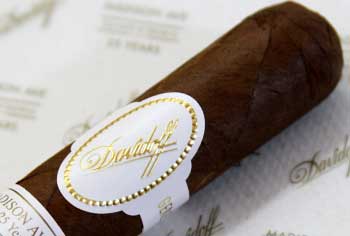 Refinement Personified is Davidoff Cigars
The soul of Davidoff Cigars is the soul of Zino Davidoff. Zino Davidoff was a man who knew how to live a beautiful life infused with enjoyment, travel and the quest for the perfect cigar. He found what it took to make the perfect cigar and did just that. Zino Davidoff cultivated his tobacco plants with patience and reverence. With precise terrain, ideal temperature, soil conditions, and with the perfect ratio of sun to rain his proprietary tobacco farms in the Dominican Republic delivered. Zino might have said, "When the tobacco leaves are ready, a distinct language emanates from the leaves."
Davidoff tobacco is perfectly aged for readiness of taste and aroma. Then the tobacco leaves are blended for the ultimate in luxurious refinement. These exacting blends must satisfy expert tasters at Davidoff headquarters. Given approval, the blends go into skilled hands of cigar rolling craftsmen who work in pairs. One selects the perfect amount of tobacco for a pleasurable draw and radiant splendor of taste. The other shapes the tobacco leaves into an elegant cigar. Zino Davidoff's legend lives on through his line of fine cigars.
Why not add a box of The Monkey to your collection? The Monkey is the 2016 Chinese New Years sign of the Zodiac. It is also the name of a limited edition "Majestic Special Toro" cigar featuring a pigtail cap; a nod to the playful monkey. "This unique and complex blend features an Ecuador Habano Rojitza wrapper, a Negro San Andres binder from Mexico, and Nicaraguan, Dominican and Peruvian fillers that create a medium to full-bodied beauty of a cigar." Your monkeys will arrive in a unique and elegant box that has received the Halfwheel 2015 Packaging Award.
Don't miss your chance to add a box of monkeys to your well lived life. Refinement personified is the Davidoff Cigar.
Get your Davidoff Cigars today by contacting Corona Cigar Co!