Posted by Corona Cigar Co. on Jun 8 2017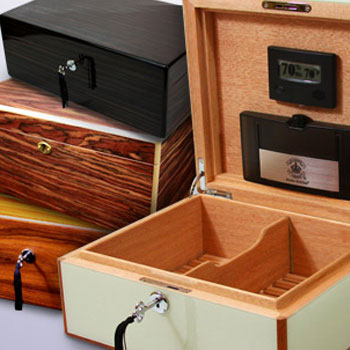 Protecting Your Cigar Investment - Choosing the Right Humidor
Even a truly excellent cigar will lose flavor if stored improperly. That's why many cigar lovers own humidors. It's the best way to preserve fine tobaccos. Fortunately, you don't have to spend a lot of money to protect your prized cigars. Corona Cigar Co. has a great selection of humidors in all shapes, sizes, and price ranges.
Why Humidity Matters
Tobacco grows in hot, humid climates. It retains its affinity for a similar environment even after it's picked. Once it becomes a cigar, the tobacco gets even more delicate. Too little humidity results in a bland flavor and harsh smoke. Dryness will also crack a cigar's wrapper. Too much humidity makes a cigar hard to light, and gives it a tight draw. It can also lead to mold. A humidor provides the perfect environment for preserving your precious cigar collection.
Selecting a Humidor
There are a variety of considerations when selecting a humidor. Some questions you should ask yourself include:
1. How many cigars do I want to store?
Cramped conditions in an over-stuffed humidor can hurt cigars' flavor. Too much room allows cigars to absorb excess humidity, making them soft and hard to smoke.
2. How portable would I like my humidor to be?
Humidors range in size from the full-size walk-in variety you may see at your local cigar shop, to furniture-sized cabinets, to desk-top chests. Portable, pocket-sized humidors are also available.
3. How much do I want to spend?
The price of a humidor usually depends on its size. The larger the unit, the larger the price tag.
4. What sort of wood would I like?
Experts say Spanish Cedar is optimal for use in a humidor because it preserves humidity extremely well. Mahogany, oak, maple, and cherry wood is also commonly used for desk-top and free-standing humidors.
Essential Considerations
You have a lot of options when choosing a humidor, but there two things you absolutely must consider prior to making the investment:
Sealing the Deal
Without a tight seal even the most extravagant humidor would be absolutely useless. The seal ensures proper insulation and ultimately protects your cigar. Check hardware strength to make sure it maintains a tight seal.
Adding Accessories
You'll need both a thermometer and a hygrometer to keep your cigars in perfect condition. The thermometer obviously monitors temperature, while the hygrometer tracks humidity levels. (Experts recommend 65-70-degrees and 68%-72% humidity.) Many humidors come with both, but Corona Cigar Co. does offer them individually.
Corona Cigar Co. has an impressive selection of humidors, including exotic woods, unusual finishes, and even ultra-portable travel sizes.
Contact Us today for more information on protecting your cigar investments and which humidor is right for you.