Posted by Corona Cigar Co. on Nov 2 2016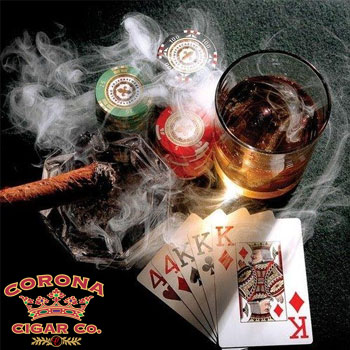 Offering Cigar Samplers to Your Poker Group
So you are fairly new to the poker group and it's your turn to host it. These are not high stake games, you play for fun and to relax, but you still want to impress.
Choosing cigars as an offering to your guests, shows your class and style. But, since you don't know every individual's tastes, cigar samplers are a great choice, offering a selection to the gamers.
Here's a few to choose from:
Corona Ultimate Cigar Sampler - filled with a variety of cigars combined by Corona, from mild to medium and medium-full. This sampler contains Dominican and Nicaraguan blends with leaves grown in North, Central and South America. We get five-star reviews for this sampler with cigar pricing coming in under $3 a stick!
Dazed & Infused Sampler - this best-selling sampler contains six acid cigars - four Kuba Kubas and a pair of Acid Liquids for the modern cigar smoker who enjoys the new 21st Century fused flavorings.
Nub Cigar Sampler - these small, fat cigars offer a "sweet spot" smoke with a smoking time of longer cigars. This is a smaller sampler, and well worth a try with four distinctive wrappers, this four-cigar pack includes a cutter.
Cigar Rights of America Assortment - this pack has 10 different cigars, each a limited edition with its own taste or size. It includes Diamond Crown, Winston Churchill and Alec Bradley to name a few, and comes with a humidor pack and a one-year individual membership to CRA.
Sure you will want to bring out the snacks and beer for your guests, but taking that further step of a cigar offering is a classy move.
In our online store you will find numerous samplers available from four cigars to 20 and more, each with a variety for the new smoker, or the aficionado. Regular pricing ranges from $35 and up, although we often have specials available. Our samplers are always a savings from individual cigar pricing, but you are always free to develop your own sampler pack.
Contact Corona Cigar Co. for questions regarding any of our sampler packs, or any fine cigar questions in general.