Posted by Corona Cigar Co. on Dec 3 2019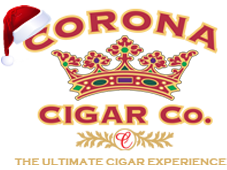 Know How to Wrap Cigars for Christmas
If you're like us, you enjoy a great cigar! Maybe you're not like us, but you love someone who is! Cigars make awesome Christmas presents (and Father's Day presents, and birthday presents). They're fun to give and fun to receive, and even fun to wrap!
Keep Luxury Cigars Fresh!
If you're buying high-end cigars online, and planning to store them under the tree for a while, know that it's important to keep them fresh. Temperature and humidity matter. They need to be just right. So before we get too creative, we need to make sure these stogies will endure the process.
Winter is a dry time in most households, expensive cigars will suffer if they aren't thoroughly protected. Consider:
Boxing them in inexpensive plastic "Tupperware" style containers before you wrap them in paper and bows.
Purchase a humidor, fill it full of cigars, and wrap the humidor.
Wrap single stogies in plastic baggies and seal, then wrap with holiday paper, then stuff stockings with them. (Don't leave single, luxury cigars unprotected under the tree.)
Get Creative with Cheap Cigars
You can have more fun with less expensive cigars!
Use fishing line and a 12" embroidery needle to string them into a "tinsel" to hang on your tree or anywhere else you'd like to decorate. Note that you must string them lengthwise if they'll be smoked later.
But if you're decorating with old stale cigars that won't be smoked, you can get crazy with the hole placement.
Wrap cigarillos as stocking-stuffers.
Use floral foam, a vase and wire to create a giftable cigar bouquet.
Use the old Christmas trick of boxing cigars in a much larger box for a little humor.
Here at Corona Cigar Co. our mission is to bring you a huge selection of cigars and accessories, and provide you with the inspiration to use them. Do you have other fun ways to give cigars for the holidays? Contact us or share some pictures! We'd love to see them.