Posted by Corona Cigar Co. on Nov 2 2016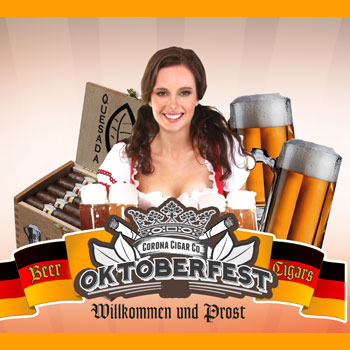 Join Us in Celebrating Oktoberfest With Cigars, Beer and Brats!
Come join the Corona Cigar Company and Quesada Cigars in celebrating their annual Oktoberfest. Our Lake Mary/Heathrow event takes place Friday, September 30 at 1130 Townpark Ave, Lake Mary, FL from 5pm to 11pm. On Saturday, October 1st, we will be celebrating in Sand Lake from 4pm to 11pm at 7792 W Sand Lake Rd, Orlando, FL. If you love cigars, beer, and bratwurst, you'll love our Oktoberfest!
The first Oktoberfest was held in Munich, Germany to celebrate the wedding of Crown Prince Ludwig, later to become King Ludwig the first, in 1810. Around 1896 the Oktoberfest began to evolve into the beer fest we know today. The Oktoberfest in Munich is the largest festival in the world, with up to six million visitors. Today people celebrate drinking beer worldwide with Oktoberfests in places from Hong Kong to the Yucatan.
If you can't make our celebration, you can celebrate Oktoberfest in the comfort of your own home with Quesada Oktoberfest Double Bock 2015 Limited Edition Cigars. These medium to full-bodied long-filler cigars from the Dominican Republic are wrapped in an oily Viso Habano Jalapa wrapper. Quesada Octoberfest Cigars are complex with a smooth finish and taste of chocolate, earth, and cedar. This cigar has a limited production of five hundred boxes a year.
Conventional thinking is to try different beers and cigars until you find the pairing that suits you best. In a Simple Guide to Pairing Beer and Cigars, Beer Info says a simple rule of thumb is to pair the color of the cigar wrapper to the color of the beer you choose. This way neither the beer nor cigar will overwhelm the other.
Try a Porter Ale or Stout with the Octoberfest cigars. They are both dark beers with a similar range of malty, roasted, and bittersweet flavors. If you find they are too much for the cigar, try something a little less heavy. Find a local craft brew you like and try that. Wine X magazine suggests balancing a beer's "malty" characteristics with the richness, sweetness, intensity and overall character of the cigar.
Please Contact Us for more information on our Oktoberfests or on any of the fine cigars we have available. Our staff is always ready to help you!