Posted by Corona Cigar Co. on Dec 8 2016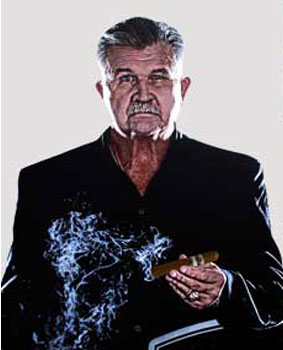 Iron Mike Knows It's the Season for Football and Cigars
"Life's not about money... It's about having fun. It's about enjoying life." - Mike Ditka.
Mike Ditka and Chicago Bears football are almost synonyms. Iron Mike was the NFL rookie of the year in 1961 and in 1985 he coached the Bears to their only Superbowl win. In between, he became known as a rough tough man's man who worked hard and played hard and wasn't afraid to express his opinion. The trailer from the NFL network gives you a glimpse of Da Coach in action.
When Camacho and Mike Ditka created the Camacho Ditka Signature cigar series, they created a cigar that pleases football and cigar fans alike. The collector's edition cigars are medium to full flavor with a touch of spice. They are, like Mike, the perfect blend of strength and flavor. Camacho Ditka Signature cigars are available as Churchills, Gordos, Robustos, and Toros. All of them are Honduran Criollo wrappers surrounding a Nicaraguan Corojo 99 binder and Dominican filler.
Corona Cigar Company also has the 2016 Camacho Ditka Throwback Limited Edition cigar available. This cigar pays tribute to Ditka as Da Coach of the Chicago Bears. It is a full-bodied cigar with notes of wood and natural tobaccos and a slight pepper spice. The cigar has a dark & oily Ecuadorian Habano 2000 wrapper, a Corojo binder and five different filler tobaccos from three regions: Honduras, the Dominican Republic, and Nicaragua. This cigar is as bold and complex as Ditka was as a coach.
Whether you are working hard, playing hard or just enjoying life the Camacho Ditka cigars are a flavorful blend that complements more than football. Contact Us for more information on these or any other fine cigars the Corona Cigar Company offers.