Posted by Corona Cigar Co. on Apr 12 2018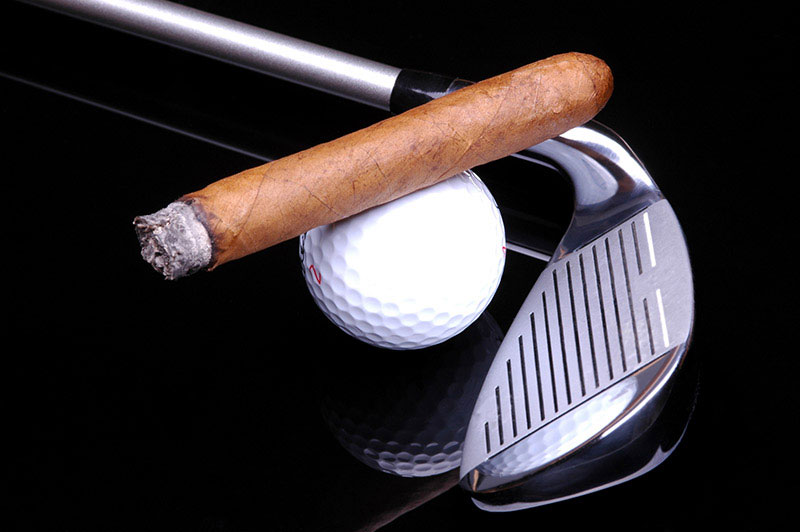 How to Enjoy Cigars on the Golf Course
Golfing is one of the best ways to relax after a long work week. Of course smoking a stogie can make golfing even more fun! Here are some tips on how to smoke cigars while out on the course with your friends.
Pay Attention to Wind Direction
First, try to be aware of the direction the wind is blowing when you're out on the golf course. This can help you be more considerate of others in your group who may not appreciate getting smoke blown in their face.
Bring a Torch Cigar Lighter
Speaking of the wind, remember to bring a torch cigar lighter so you won't have any issues lighting your cigar. It can be difficult to get a flame going if the wind is constantly blowing it out.
Use a Travel Ashtray
As tempting as it may be to flick some ashes on the course (after all - it's so small, who would notice?), you should use a travel ashtray as a courtesy. You can carefully place your cigar in the ashtray when it's your turn to golf or when you need to use both hands for something.
Smoke A Large Cigar
There's nothing worse than finishing a cigar early before you're done playing. We suggest that you take a a large cigar just in case the course is really busy and backed up.
Please contact us today for more information on our brand name cigars. At Corona Cigar Co., we're proud to help cigar lovers all over the world get access to quality cigars and accessories at amazing discounted prices. If you aren't sure about which cigar to buy, don't worry! One of our knowledgeable customer service members can help you select just the right stogie. When you visit one of our Florida stores or shop with us online you'll see for yourself why we were voted as the "Top 5 Internet Cigar Retailer" by Smoke Magazine.