Posted by Corona Cigar Co. on Nov 2 2016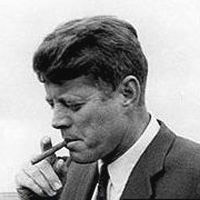 How President John F. Kennedy Got Around the Cuban Cigar Embargo
John F. Kennedy was the most famous cigar smokers in history. He favored H. Upmann Cuban cigars, which proved to be a problem once he signed the economic embargo against Cuba. The UK Daily Mail tells the story of how Kennedy got around the embargo.
Kennedy ordered his press secretary, Pierre Salinger, to obtain as many Cuban cigars as he could get his hands on, Petit Upmanns by preference. Salinger had to accomplish this task by the next morning.
Salinger, himself an avid Cuban cigar smoker, visited every cigar shop he could find in the Washington D.C, area, snapping up as many Cubans as he could lay his hands on. His haul came to 1,200 cigars.
The next morning, Salinger arrived at his White House office to find his phone already ringing. The president was on the other end, inquiring as to the success of his press secretary's mission. When Salinger reported complete success, Kennedy duly signed the executive order imposing the economic embargo on Cuba. Having secured his supply, President Kennedy made it illegal for anyone else to import Cuban cigars into the United States.
Much has changed since 1962 when Kennedy barred the import of Cuban cigars. The Cold War is over, and the Soviet Union is on the ash heap of history. Fidel Castro, while still alive, is no longer officially in charge of Cuba. And yet the embargo on Cuba remains, preventing Americans from enjoying that country's most famous product.
For more information contact us.