Posted by Corona Cigar Co. on Dec 6 2016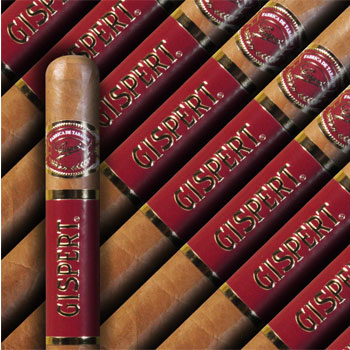 High-Quality New Cigars at an Affordable Price: Gispert Brand
Still searching for the perfect go-to everyday cigar, that won't break the bank? Here at Corona Cigar Co., we have the solution for you with our newly offered line of Gispert Natural Cigars.
A trusted brand, dating back to the 19th Century, Gispert cigars are one of the most highly rated affordable cigars on the market. Everyone, from acclaimed aficionados to beginners, will enjoy their mild and full-bodied flavor.
The Gispert brand of cigars are hand rolled at the La Flor de Copan Cigar Factory in Honduras and the quality is seen with each one. They have been receiving amazing reviews from consumers, as well as from reputable sources, such as Cigar Aficionado for years. They are currently rated with a solid overall score of 90 on a 100 point scale, which is no easy feat.
All of the cigars from the Gispert brand, such as the Churchill and Robusto, feature long filler tobaccos grown in Honduras & Nicaragua, a Honduran binder, rich Connecticut seed, and an Ecuadorian grown wrapper. All of these ingredients are crafted together to form a mild to medium bodied cigar with flavors of cedar and spice. The specially crafted wrappers add a subtle creaminess that brings it all together in a wonderful and complex tasting cigar.
Affordable doesn't always have to mean poor quality. Don't want to take our word for it? That's okay with us. We offer all of the Gispert brand cigars by the box and as singles. Sample one or several of our new cigars offered online.
If you have any questions about Gispert cigars or another premium brand that we offer, please Contact Us today!