Posted by Corona Cigar Co. on Nov 2 2016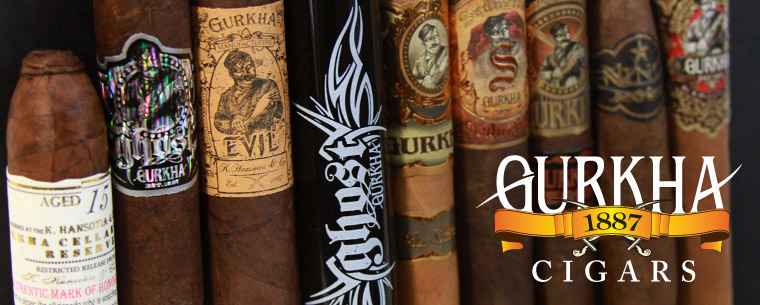 Gurkha Cigars: Premium Smoking at a Reasonable Price
Any cigar aficionado will readily tell you that the best cigars are often quite expensive. A good cigar after dinner or to help you relax in the evening shouldn't have to break the bank. Fortunately, Gurkha Cigars offer a balanced middle ground between premium flavor and a price that isn't at all objectionable. For value, Gurkhas are very difficult to beat.
Named after a group of native Nepalese soldiers who were employed by the British as mercenaries during the Indian colonial period, Gurkha cigars are not for the timid. Most Gurkha cigars share a distinctly powerful, yet well-balanced, flavor. The Gurkha Evil, for example, utilizes a combination of Brazilian, Nicaraguan, and Dominican tobaccos to deliver an earthy taste with a strong overtone of spice. The Evil, one of the most popular offerings from Gurkha, is a very strong and bold cigar that still retains the fine balance of flavor that one expects from a premium cigar company. Other popular Gurkha cigars include the Ghost, Ninja and Royal Challenge.
These hand rolled cigars, while certainly of high quality, are surprisingly economical. Depending upon the variety and shape that a particular smoker prefers, Gurkha cigars range between $6-$15 as singles. When purchased in boxes of 20, the price per cigar becomes even more reasonable. More impressive, perhaps, is the fact that Gurkha has maintained a reputation as one of the leading manufacturers of premium cigars while still offering its products at these prices.
Gurkha cigars may not be for everyone. Their powerful and assertive flavors, however, have made them a favorite among those who enjoy a strong cigar. Best of all, they are premium cigars that are very reasonably priced. As value cigars, Gurkhas are among the best, and they come very highly recommended. Contact Corona Cigar Co. if you have any questions about any of our premium cigars.