Posted by Corona Cigar Co. on Nov 2 2016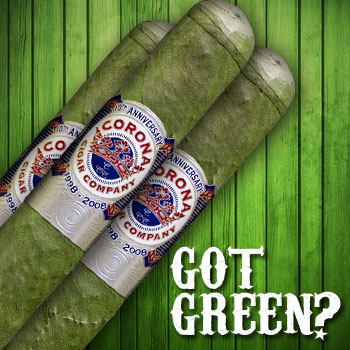 Green Cigars Oscar Wilde and Other Irish Lads and Lassies Will Love
Before long, everyone will be claiming that they're Irish. So, we wanted to focus on a certain Irishman and his passion for tobacco products in today's post. The man of the hour is playwright and novelist, Oscar Wilde. He had a habit of referring to smoking in his literary works. Plus, he helped the Irish cigar manufacturers of his day by lending his image for advertising purposes. A lithograph print from those early days may be found on display in the Library of Congress. In it, he was pictured with one of his signature images, the sunflower. You can also read a snippet about his days as a cigar pitchman on page 172 in John Strachan and Claire Nally's book, "Advertising, Literature and Print Culture in Ireland, 1891 – 1922."
Understandably, Wilde's career in advertising and literature ended long before his passion for a great cigar. However, that shouldn't stop anyone from reaching for a premium, cigar when St. Patty's Day rolls around. There are several cigars that would be perfect for celebrating St. Patty's Day and famous Irish smokers like Oscar Wilde.
This Irish theme cigar has a green candela wrapper surrounding Panamanian and Honduran long fillers and Sumatra binder. The perfect complement to your green beer!
Other green cigars include:
However, if you're not a fan of candela wrappers, there are other options. To learn about them and find the best cigar for your St. Patty's Day celebration, please contact the Corona Cigar Company today.