Posted by Corona Cigar Co. on May 18 2017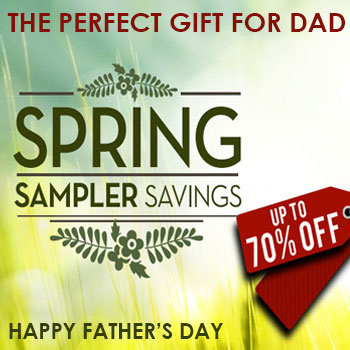 Give A Cigar Sampler For Father's Day
If you've been wondering what to get dear, ol' dad this Father's Day, why not give him a Cigar Sampler? Ties are old news. Sports equipment is traditional so won't offer up much surprise. For the sophisticated father who appreciates the finer things in life, what will really delight him is a box of delicacies of the exotic tobacco variety. And for the doting dad who rarely indulges but makes loving sacrifices for you, it's time that he got a bit of spoiling.
If padre's humidor is running low on stock, a sampler can refill it with flavors like Oliva Limited Edition Cigar Sampler - 5 Pack, Davidoff Gift Collection - 9 Cigar Assortment or La Aurora Preferido Treasure Box Tubo Cigars Gift Box. When there are so many brands to choose from, a sampler makes it easy. Dad gets a little bit of the best of everything. All samplers are packed in traditional cigar boxes to protect the flavors and aromas, ensuring that your gift arrives robust and full-flavored.
Now, dad may not tell you that what he really wants for Father's Day is a box of stogies. But trust us, within every dad is a cigar aficionado waiting to be satisfied. Enjoying a cigar is so much more than simply savoring the flavor. It is the ultimate exercise in relaxation. Sitting back and watching tendrils of aromatic smoke rise is drenched in luxury. Being a father is a tough job. Why wouldn't he deserve to kick back and indulge with a cigar?
So forget about the golf clubs or loafers this year. Give pops what he really wants and maybe isn't even aware of it yet. Give a gift that tells your dad that you know he deserves the very best in life. And it's all wrapped up in tobacco leaves. For assistance in picking out the cigar sampler that will suit your father best, please contact us. Our experts can help you navigate the many selections of premium cigar samplers we offer to select one that will be perfect for the man who means so much to you.