Posted by Corona Cigar Co. on Nov 10 2016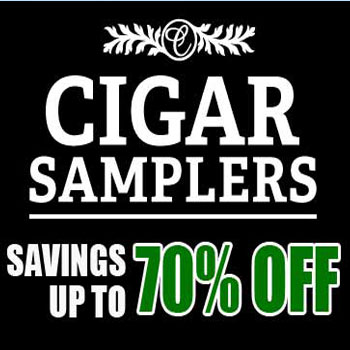 Getting Started with Cigar Samplers
If you are thinking about purchasing Cigar Samplers, it can seem a bit daunting at first, and you may not know how to begin. Cigar lovers will tell you; there is nothing quite like enjoying a fine cigar to relax with after dinner or one to share in celebrating success. A wedding, a birth of a child, job promotion, or just good old-fashioned comradery, are just a few good reasons to have cigar samplers on hand.
It doesn't matter if you're purchasing your very first cigar or you're a cigar connoisseur; Corona Cigar Co. has everything you need. You can customize a sampler pack by price, brand, strength, country of origin, and wrapper. There are over one hundred different samplers to try.
The Best of Corona Cigar Sampler would be perfect for that next tailgate party, with 9 of our most popular exclusive cigars to enjoy with friends. Maybe something sweet to have on hand, like the Corona flavors sampler pack, it includes six different flavored cigars, mild in strength, Dominican tobacco rolled in a Connecticut wrapper. If your're not quite sure what your style or preference is, or just wanting to expand your experiences, the Collector's Sampler could be what you're looking for with twenty different cigars to try.
Cigar Samplers are not only convenient to give as a gift but also to have on hand for whatever the occasion brings. Whatever your choices are, you're guaranteed satisfaction when you purchase from Corona Cigar Co and see for yourself why Forbes Magazine selected us Best of the Web. We offer everything from samplers, Cigars of the Month, Accessories, Humidors, and everything in between. If you have any questions regarding getting started with cigar samplers, or anything else we can help with, please Contact Us today.