Posted by Corona Cigar Co. on Nov 2 2016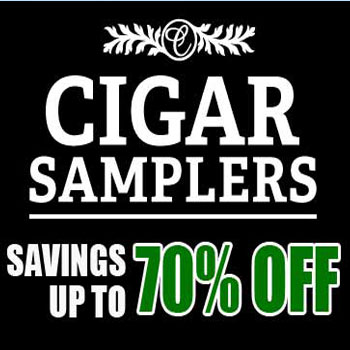 Don't Miss Our Great Deals On Cigar Samplers!
When it comes to cigars, there are countless options out there to choose from. Whether you're a seasoned veteran smoker, or a newbie just trying to learn the ropes, it is sometimes hard to know exactly what you are looking for, and if you are trying to buy cigars as a present for someone else, the expansive array of choices can seem positively overwhelming.
That's why we are offering huge discounts on our cigar sampler packs this winter. A great idea for finding something new and exciting, our samplers offer a unique chance to explore the vast array of cigars that we provide, from the Coffee Break Sampler, which features distinct cappuccino and chocolate flavors, to the 6 Pack Connecticut Cigar Sampler, containing Connecticut cigars from three different popular brands. Save up to 70% on premium brand cigars today!
Experience the quality of our finest tobaccos, hand-rolled to make excellent and classy cigars, bundled up in unprecedented bargains. Don't miss this chance to save big on old favorites and new experiences! They're going fast, so pick your cigar sampler soon, before its gone. Deals like this only come to those who act now! There's no reason to pass this up!
Don't let buying cigars be a nervous ordeal. Purchase confidently, equipped with the knowledge that no matter what you get, it will be the best. You don't have to know everything there is to know in order to make a wise choice. Contact Corona Cigar Co. today for exclusive offers on high-quality cigars today, before this incredible deal ends!