Posted by Corona Cigar Co. on Nov 2 2016
Discounted Cigar Bundles: Who Says Americans Can't Catch Wage Increases?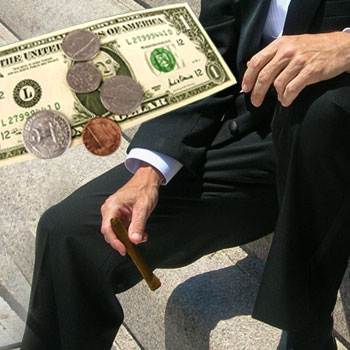 Is your employer an el cheapo? According to a recent piece in the Washington Post and Moody's Analytics, there aren't a lot of raises going around corporate America these days. Some blame it on a combination of unemployment, underemployment and pent-up wage deflation. Others put it all on the shoulders of politicians, other people's greed and the Federal Reserve. At Corona Cigar Company, we choose not to participate in the blame game. Instead, our focus is on providing Americans with great cigar bundles that they can afford, like El Cheapo and Cost Cutter.
El Cheapo and Cost Cutter bundles are just two bargain brands that hard-working, nickel-pinching Americans will find on our online cigar store. And many of those fantastic cigars average out to about $2 each. So, El Cheapo and Cost Cutter cigar bundles generally sell for less than $30 each. Choose from Cost Cutter Candela, Cost Cutter Sweet Corona Extra, Casa Bella Nicaraguan, El Cheapo Nicaraguan or one of our other offerings and you could end up saving 70%! Then you can fire one up and think of all that extra cash as a pseudo wage increase.
We should also note that just because our cigar bundles will save part of your paycheck, doesn't mean that the manufacturers skimped on quality. This is actually one of those cases where people simply don't get what they pay for, they get way more. These cigars taste great, feel good in the hand and burn slowly like an excellent stick should. Plus, their purchase may make you eligible for freebies and discounts. Check out the details and sign up for our Rewards Program. Right now, we're offering select Rewards Program members free cigar sets, Lotus Torch lighters and discounts on their next purchases. To find out more, please contact us at the Corona Cigar Company.