Posted by Corona Cigar Co. on Apr 13 2017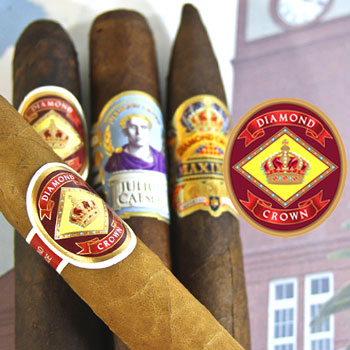 Diamond Crown: Cigars fit for Royalty
Diamond Crown Cigars are a cigar brand with a fitting name as they have literally been smoked by kings and world leaders. And though you do not have to wear a crown to enjoy these regal cigars, you will feel like royalty smoking them. Here are a few of our favorites from this kingly line.
Cigars as beautiful looking as they are tasty, Black Diamond cigars feature tobacco from the Fuente Farm in the Dominican Republic wrapped in a Sun Grown Connecticut Shade wrapper, double fermented for 8 years. These Cigars certainly live up to the Diamond Crown name.
With a name that connotes magnitude, these cigars live up to their name with big flavor and bold aroma. These handmade cigars contain Dominican filler tobacco paired with Sungrown Ecuadorian wrapper tobacco from El Bajo, Ecuador. These are no doubt, cigars fit for a king.
These rare cigars are a celebration of founder J.C. Newman. Hand-rolled, these cigars feature an Ecuadorian Cuban-seed wrapper and Central American fillers. And with 5 year aged tobacco, these cigars will bring bold flavor that satisfies and delights the senses.
Big, bold, beautiful. These are the words that define Diamond Crown Cigars. Providing you with taste and aroma that is a cut above the rest, you will get a taste of kingly luxury smoking these beauties. Be sure to check out some of the other varieties we have in stock.
If you have any questions about Diamond crown cigars, please contact us today.