Posted by Corona Cigar Co. on Nov 2 2016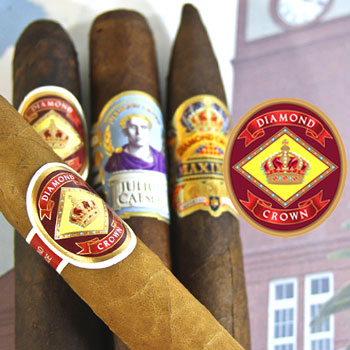 Diamond Crown Cigars: Only the Best Make the Cut
Stanford Newman wanted to honor his father's memory by offering only the finest cigars. In 1991, the idea for Diamond Crown Cigars was born from a conversation between Newman and Carlos Fuente, Sr. It was officially launched in 1995 at an all-star gala in Beverly Hills. Diamond Crown focuses only on limited production, and is available through only the finest tobacconists nationwide.
The Humble Beginnings
After immigrating from Austria-Hungary, in 1895 Julius Caesar Newman founded the J.C. Newman Cigar Company in the family's barn basement in Cleveland, OH. With his persistence, the company quickly grew and expanded.
Growing the Tobacco
To avoid damaging the fragile tobacco leaves, the fields are plowed by donkey even to this day. Organic compounds are used to fertilize the soil, in order to ensure that the flavor of the leaves is not compromised.
The Cigars
Every Diamond Crown Cigar is made with a full 54 ring, allowing 6 to 7 leaves to be blended in each. At the time J.C. started doing this, it was very unconventional to make such thick cigars. This technique gives the cigars their rich, consistent, full flavor. The wrappers are known as Connecticut Fermented Wrappers. They are aged for five years, and only the silkiest of leaves makes the cut. All tobacco in Diamond Crown cigars is aged for at least five years in one of three processes: barn aging, temperature-controlled aging, or French oak barrel aging. After they are rolled, the cigars are aged for at least one year.
The launch in 1995 included only the mild-flavored Diamond Crown Classic.
In 2005, Diamond Crown introduced the bold-flavored Diamond Crown MAXIMUS. This was created through collaboration with two other legendary tobacco families, the Fuentes and the Olivas.
In 2010, to celebrate J.C.'s 135th birthday, the moderate-flavored Diamond Crown Julius Caesar was introduced. This cigar is aged for five years and has a very bold and distinctive flavor.
For more information, or to place an order, please contact us today!