Posted by Corona Cigar Co. on Nov 2 2016
Diamond Crown Cigars: A Perfect Way to Mark the Ides of March 2015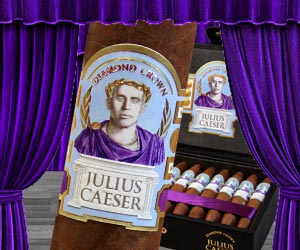 For centuries, people across the globe have recognized the Ides of March. According to National Geographic's researchers, it was once seen as a time to settle accounts and mark the middle of a month. However, in 44 B.C. the world's thoughts about the day changed thanks to the assassination of a dynamic figure from world history. Yes, we are referring to Roman statesman and dictator, Julius Caesar. He was known for creating powerful alliances to achieve his goals. So, what does any of this have to do with cigars? Read on and see:
In the spring of 1995, the J.C. Newman Cigar Company combined forces with the Carlos Fuente Sr. Cigar Company to debut Diamond Crown Cigars. Thus, 2015 marks the cigar line's 20th Anniversary but that's not all. In the years since the Diamond Crown Cigars' unveiling, the company has partnered with other manufactures to create bold cigars like the MAXIMUS and Julius Caesar. The later cigar, by the way, was not named after the man who fell to his rivals on the Ides of March. Rather, it was named after the head of the well-respected cigar family, Julius Caeser Newman. Nonetheless, we can't think of a better way to mark the Ides of March 2015 than with a Diamond Crown Cigar.
There are many Diamond Crown Cigars that would make an excellent addition to any Ides of March observance. Among them are the Julius Caeser Robusto, Julius Caeser 1895 Perfecto, Julius Caeser Hail Caeser, Julius Caeser Pyramid and Julius Caeser Toro. Each one features a stylish cigar band that sports the patriarch's likeness, Roman style. Plus, to make the occasion all the more special, we're giving away a complimentary Diamond Crown coffee mug and ashtray with each order. However, just like Julius Caesar's reign, the freebies won't last forever. To learn more about them and place your order in time to recognize the Ides of March, please contact us at Corona Cigar Company today.