Posted by Corona Cigar Co. on Feb 22 2018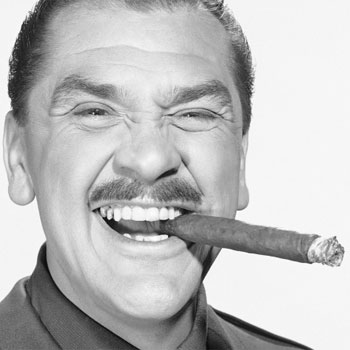 Comedy Genius Ernie Kovacs Loved His Double Corona Cigars
Could you sum up your life in 18 words? Comedian Ernie Kovacs could – and did. "I was born in Trenton, NJ in 1919 to a Hungarian couple. I've been smoking cigars ever since."
Before his showbiz career took off, Kovacs did a short stint as a cigar salesman in a drugstore, quipping it was the only place he could get free ones (who knows? It might've been true!).
The father of sketch comedy (Carol Burnett perfected the comic style on her TV show) packed a ton of living and creativity into his 42 years: author, actor, comedian extraordinaire on radio, TV, and in movies. He wrote songs for some of his comedy sketches (sample this: "Mr. Question Man," among others), joining ASCAP in 1957.
Kovacs wrote a weekly-turned-daily column for his hometown newspaper. He wrote mystery shows for radio audiences. He wrote gags for nightclub comedians. He played summer stock between poker games in Vermont (he loved poker, and not just in Vermont).
He worked daytime TV on the Dumont Television Network, CBS, and NBC.
NBC also gave "Mr. Moustache" a prime-time show, opposite his cigar-lovin' friend, Uncle Miltie Berle. Berle prevailed, though, but Ernie still had his daytime show.
Always holding a cigar…
... except, maybe, while performing in high school musical productions.
The Dutch Master cigar people eyed the cigar-totin' Ernie Kovacs for their front man in TV commercials.
After filming, when the lights went dark and the cameraman went home, Kovacs reached for a cigar. Not a Dutch Masters cigar, but a better cigar, a double corona, a premium cigar with a marvelous blend of aged tobacco. He smoked as many as 20 a day.
Wait a minute. Twenty cigars a day? If one cigar takes an hour to smoke – double coronas are between 7-and-7.5-inches long – that's 83%, five-sixths, of the day. How does comic genius survive on four hours of sleep a day? We don't know the "how," we just know it all worked out for everyone.
"Nothing in moderation."
No matter what he took on, that was Ernie Kovac's motto -- and the epitaph on his tombstone (the rest reads, "We all loved him.")
The father of sketch comedy also fathered three daughters, two with dancer-wife, Betty Wilcox. When Betty exited the marriage, she left husband and daughters, Elisabeth and Kippie. Ernie's mother moved in and helped rear her granddaughters.
In 1954, Ernie and Edie Adams, star of Broadway's "L'il Abner," tied the knot in Mexico. We can also assume a "guest" at the ceremony was one of his double coronas.
Soon, they added baby Mia to the family fold.
Edie joined Ernie on his daytime show, Kovacs on the Corner. In a fun episode on the TV game show, "What's My Line?", panel member Ernie took no time guessing that the mystery guest trying to disguise her voice was wife Edie.
Bill and Kippie Lancaster presented the Kovacs with their only grandchild. Care to guess who the other grandfather was? (Hint: His first name was Burt.)
Creative innovator and inventor, husband, father, grandfather – cigar aficionado. That was Ernie Kovacs. See what other brands we offer to new and long-time cigar smokers, and contact us.