Posted by Corona Cigar Co. on Mar 23 2017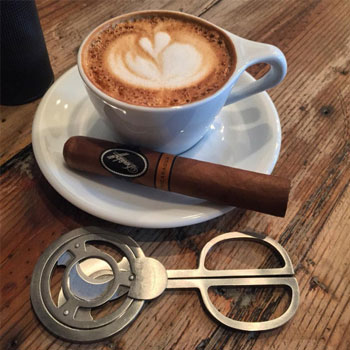 Cigars and Espresso: A Match Made in Heaven?
As a cigar aficionado, what's your favorite beverage pairing?
Fine cigars are great alone, but if like most cigar fans you like to wet your whistle at the same time, you certainly won't be at a loss for options. Wines, coffees, and whiskeys are popular choices, but today we'd like to highlight one of the finest beverage pairings you can try: espresso.
As with cigars, espresso comes in a seemingly countless array of styles and flavors. Primary among the espresso notes are dense flowers, fruit, dark chocolate, and other pleasantly bitter flavors. These taste profiles, of course, compliment nearly any kind of cigar.
But how do you best pair a cigar and an espresso?
One of the easier methodologies that tends to be accurate more often than not is to match the color of your espresso with the color of your preferred cigar. However, this isn't the end-all-be-all of a perfect pairing.
You'll also want to consider:
The strength of the espresso. Will it overpower your cigar's flavor? If so, it's a no-no.
The aroma of the espresso. Smell your cigar and smell the espresso (preferably still in bean form). Do they go well together, or does something seem off?
Experimentation. The flavor of the espresso and the cigar don't have to be a perfect match. In fact, they might be polar opposites which come together to create a sublimely unique experience.
Whatever cigar and espresso pairing you find to be the most enjoyable, we find that the ambiance of your environment plays a large part. There's something to be said for watching the sunset on your patio while enjoying a pick-me-up for the evening to come.
Would you like to learn more about cigars, great beverage pairings, or simply ask about any of the high quality products we carry? Please feel welcome to contact us today.