Posted by Corona Cigar Co. on Nov 2 2016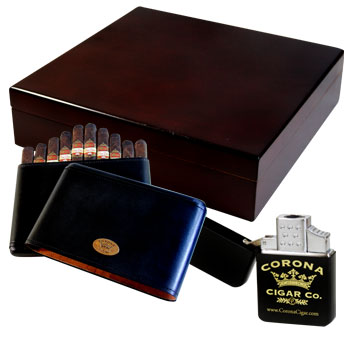 Cigars: Try Accessories as Gifts
Looking for a gift to give the cigar aficionado in your life? Accessories for cigars are a thoughtful gift for the man or woman who loves the leaf.
Why? Accessories run the gamut—you can get items that make cigar smoking more comfortable or convenient, items that keep your cigar in a sustaining environment (humidors), or items that make the effects of cigar smoking (smoke and cigar stubs and wrappers) vanish.
In the "gifts that make cigar smoking more comfortable or convenient" category, try cases. We offer several elegant leather cases that will hold 2 or 3 cigars—enough for a quiet evening or a visit to the lounge.
Or, how about lighters? A Vertigo Golf Torch lighter is perfect for the golf-loving brother of the leaf in your life. It features a torch flame that is won't be blown out by gusts of wind, a slide-out divot tool, and a nice cigar rest as part of the torch.
Seeking to minimize the impact of cigar smoking on your love life? How about a smoke odor-exterminator candle? These will erase the smell of smoke from a room, and also work wonders on pet and household odors. They come in great scents, such as Mulberry & Spice, Cherry Pomegranate, Havanah Nights, and many more.
Humidors make your cigars last by keeping them fresh. They avoid the twin environmental perils of drying out and become too moist. We have a huge selection, from large to small.
How about an ash tray that easily contains both ash and detritus such as wrappers? Try the Romeo y Julieta ashtray. It has a deep bowl design rather than a shallow circle or rectangle, which means 1) no one has to go empty the ashtray during the evening and 2) odors are far more contained than with a shallow ashtray. Cigar puffers and their significant others both love it.
Contact Corona Cigar Co. for more information on what accessory would be the best fit for you.