Posted by Corona Cigar Co. on Nov 2 2016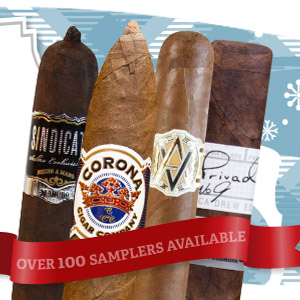 Cigar Samplers and Christmas Go Perfect Together
Christmas—or any winter holiday—is a fine time to begin thinking about cigar samplers. Why? It's traditionally a time for giving presents and stuffing piñatas. There is no better present than cigar samplers. If your friends and family already love cigars, they will be delighted to receive an assortment. If your friends and family have never even tasted a cigar—but know that you are an aficionado—it's high time they tried.
A gift of a sampler meets several of the criteria for great gifts. First, like a candy assortment, people can, literally, sample to see if they like a particular type. If they don't, no harm is done—there are plenty of others. If they do, they've found a favorite. Second, it brings cigar-smoking into a novice's life in a low pressure way. They can smoke on the holiday itself, and then maybe a week later. It's not like being thrown into the deep end of the pool: they can build their aficionada-ness slowly. Third, it's a way for infused and flavored cigars to be sampled along with more traditional blends. People who like the former but don't care for the latter can expand their tastes—and vice versa.
This year, make a New Year's resolution to keep your humidor stocked. Then, you'll always have a cigar to offer your friends or neighbors when they drop by your house, or when you invite people over for dinner and drinks.
We'd also like to suggest that cigar samplers are a great way to take advantage of the 12 days of Christmas. Traditionally, spouses or lovers gave each other a gift on every one of these days. Why not revive (or continue) that tradition with a cigar for every day? Whether you are a woman buying for your man or a man buying for a woman, it's a great gift idea.
Want to talk about other gift ideas? Contact Corona Cigar Co. today!