Posted by Corona Cigar Co. on Nov 2 2016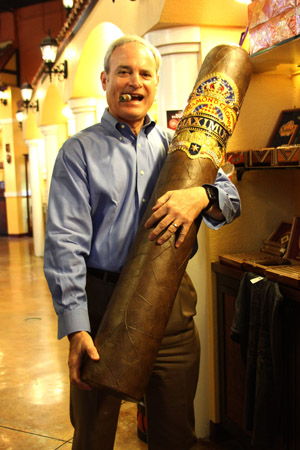 Cigar Gift Ideas for the Busy Executive
Are you hoping to score points at the office by coming up with the best gift ideas for the boss? If so, consider bringing up the topic of stylish humidors and cigar samplers. They are traditionally seen as the perfect gift for high-level professionals and we can understand why. Cigars and the humidors that protect them have long been considered symbols of wealth and success. And what boss wouldn't want to give his peers the appearance of being wildly wealthy and successful?
With that in mind, we'd recommend suggesting that everyone in the office chip in on the purchase of the Admiral 100ct Humidor. If your boss already knows a thing or two about humidors, he'll greatly appreciate that it's made with Spanish cedar. It is one wood that is known to withstand high humidity and repel insects without leaving its mark on fine cigars' flavors or aromas.
Plus, it will work with the humidor's air-tight seal and brass hinges to help control moisture levels, which can impact cigar smokers' experiences over time too. We're betting that he'll appreciate the humidor's size and glass top as well. They make it easy to store the humidor on an executive desk or conference room table, regardless of where they may be located inside of the room.
The 9-inch by 8.5-inch humidor stands 2.25-inches tall and can comfortably hold 10 cigars at a time. So, your boss will be able to either enjoy the cigars all by himself or pass them out to his fellow executives after a particularly successful week. And to top it all off, the gift comes pre-filled with an excellent variety of cigars that he (or she) may already be familiar with. To learn more about this great gift and other gift ideas to WOW! the boss, please contact us.