Posted by Corona Cigar Co. on Nov 2 2016
Cigar Cutters: One Man's Art is Another Man's Tool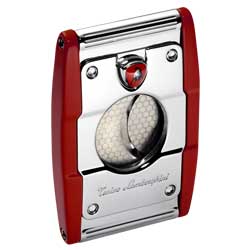 When you look at a cigar cutter what do you see? Is it art, an essential tool or both? In our experience, it's a debate that's been raging on amongst cigar aficionados for centuries. Whichever side of the argument you come down on, know one thing. You'll find a wide assortment of accessories for sale through our online cigar store, including an impressive variety of stylish cutters. We've got all of the classic designs, like scissors, punchers, guillotines and v-cutters. Plus, they're made from an assortment of popular materials and the adornments range from understated elegance to wild and wooly.
With that in mind, feel free to wear our cigar cutters just like men did in the Victorian and Edwardian eras. In order to do that, you'll need a watch fob and a cutter with a hole suitable for attachment. The list of good choices includes, but shouldn't be confined to the S.T. Dupont Maxi Punch in Chrome, Xikar 9mm Pull Out Punch Cutters and the Xikar Xi2 Cutters. Of course there's no hard and fast rule that says you must go that route. We've got cigar knifes and cutters that would certainly fit comfortably in your pocket too.
We know that some brothers and sisters of the broadleaf like to keep their cigar cutters sitting out on top of a desk, near their humidors, or tucked away in a special drawer. That's fine by us. However, in our opinion, there are quite a few cigar accessories that are just too visually stunning to keep under wraps. Among them are Rocky Patel's Kamikaze Cutter in Black and Colbri's Black and Gunmetal Slice Cutter. Other brands of beautiful cigar cutters to consider investing in are Prometheus, Lamborghini, Palio, Davidoff, Zino and S.T. Dupont. To learn more about them and additional cigar cutters that we may have in stock, please contact us at the Corona Cigar Company today.