Posted by Corona Cigar Co. on Nov 2 2016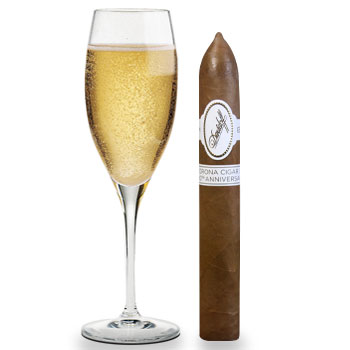 Champagne and Cigar Christening for Your New Launch
So, you bought your new boat a couple of months ago. You've had her pulled out of the water, gone over with a fine-tooth comb, painted and she has a new name. And while she may be named after your wife, companion, mother or daughter, you want to christen her with the guys.
You've picked out some champagne for the occasion, and you certainly hope that the bottle breaks on her bow. There are some extra bottles for drinking, of course, but you feel there is something missing. You need something extra to welcome your friends to visit the Rebecca Lynn, on which they will be dying to go sailing, or maybe take on a fishing trip.
Aha! You need to pass around some cigars! Perfect!
But, you don't know what everyone may like – how about a cigar sampler pack? We can recommend a few choices to go with the bubbly. And, just in case you need assurance, many aficionados believe that the bubbles from the champagne enhance the flavor of the cigar. It's true!
Best of Corona – offers nine of the most popular house brands. A few of the cigars will include a Dominican, mild Maduro; a Nicaraguan, mild-to-medium Candela; and one of our Dominican, mild-to-medium Dos Capos wrappers.
CAO Variety 5-Pack – this includes five of the best CAO brands with medium strengths – Robustos from around the world including the Brazilia, Italia and Gold. The tobacco is from various points of origin, as are the wrappers. You can't beat the price on this sampling!
Padron Assorted Maduro Cigars – if you are going all out – choose this sampler! Nine medium to full strength cigars originating in Nicaragua with Maduro wrappers. These are from Cuban-seed tobacco that are aged for two-and-a-half years! Padron is one of the highest rated cigars worldwide, so if you want to impress, this may be your choice.
At Corona Cigar Co., we have many other sampler packs from which to choose. Take into consideration how many buddies you will be entertaining at the christening, and whether they are regular or occasional cigar smokers, or if some may be inexperienced. Contact Us today and feel free to ask us what other champagne pairings may fit the bill.