Posted by Corona Cigar Co. on Dec 20 2016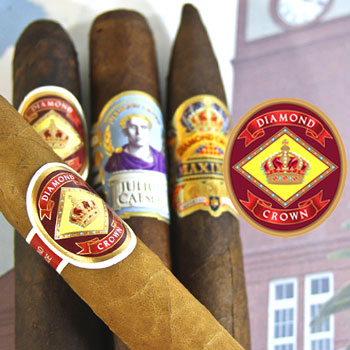 Celebrating A Cigar That Shines Like A Diamond Crown This Holiday Season
Recently, our favorite cigar creators, J.C. Newman, launched the Diamond Crown Black Diamond -- a treasure in the cigar industry.
Two years in the making, a cigar debut causing this much of a stir requires a celebration. Connoisseurs can commemorate the new cigar by indulging in some of the Corona Cigar Company cigars.
The Diamond Crown Cigars offer a smoking experience that is as rich as its history.
It was more than a century ago that industry legend Julius Caesar Newman created his eponymous cigar company; however, it was Newman's son Stanford who lit the match that sparked the Diamond Crown premium line of cigars and paid homage to his father.
You can celebrate the new Black Diamond addition building on the Newman company history by indulging in one of Corona's masterpieces. To appreciate the Diamond Crown line, it is important to first admire the cigars' well-packed form, woody aroma and fine veins.
The Diamond Crown No. 5 Natural Cigar is a good place to start your celebration. Rolled by skillful hands under the watchful eyes of illustrious third generation cigar maker Carlos Fuente Jr. of Arturo Fuente Cigar Company, the golden-brown and Connecticut-grown wrapper protects a treasure of mildly smooth and carefully aged Dominican Olor tobacco. This pick has a sharp burn that finds support in a mature flavor.
If you want something bringing more of an international allure, try the Diamond Crown Maximus No. 6 Double Robusto Sungrown Cigar. It's a wonderful and harmonious meeting of earth, coffee bean with undertones of cedar spice (something that makes for quite a full and attractive profile). Also made in the Dominican Republic and another passion project of Fuente Jr., you can slowly burn your way to cigar heaven with the Dominican filler tobacco and Sungrown Ecuadorian wrapper tobacco.
You can find a diverse selection of choices at Corona Cigar Company. Please contact us with any questions about finding a cigar that shines like a diamond this holiday season.