Posted by Corona Cigar Co. on Nov 2 2016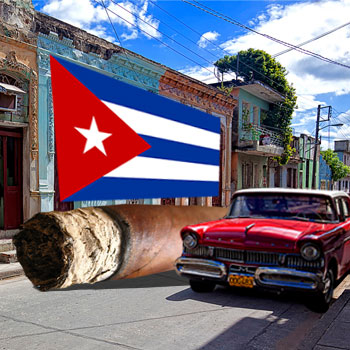 Celebrate The Normalization of Relations With Cuba By Purchasing Cigar Samplers
It made headlines all over the world. The United States is normalizing relations with Cuba. Suddenly, US citizens will be allowed to travel to Cuba, and imports and exports will increase. For the first time since the 1950s Cuba will be an open trading partner of the United States, many people alive today have never witnessed anything like this.
It is definitely an occasion worth celebrating, and of course what better way to celebrate our new relationship with Cuba than to light up some fine cigars? Cuban cigars have always been a considerable luxury, but now we can expect that more varieties of Cuban cigars will be easier to come by and more affordable to purchase. So, now is a great time to try out a few cigar samplers to learn what specific flavors and styles of cigars you prefer and will want to look for and purchase as we see Cuban cigars re-enter the popular market.
The Around the World Sampler is a great place to start. We will be able to explore the variety of tobaccos already available here in the United States in order to get a feel for your favorite type of cigar; maduro, Connecticut, Habano, and others. Remember, even when Cuban cigars are more readily available, they will also come in a variety of wrappers, binders, and fillers from which to choose.
We will be celebrating right along with you and all cigar lovers as we see the cigar industry revolutionized by the new political stance of The United States regarding Cuba. If you have questions about your fine cigar purchase, or if you're just looking for incredible varieties at even better prices, please do not hesitate to contact us.