Posted by Corona Cigar Co. on Nov 2 2016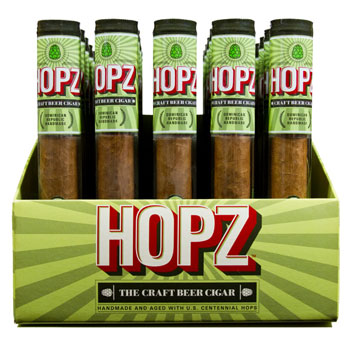 Broadleaf Brothers and Sisters Love Chilling Out with Beer Infused Cigars
How would you define a good time? Does it involve cold, craft brewskies and a humidor filled with premium cigars? If so, we're sure that you've already taken the time to learn about pairing fine tobacco with the world's best beers. But what you might have overlooked is a certain brand of handmade cigars that are tailor-made for beer connoisseurs such as yourself.
The cigar brand known the world over as Hopz, they're ironically made in the land of bourbon. The company behind the ideal offering is none other than Ted's Cigars. It's the same group of craftsmen that brought Makers Mark and Grand Marnier to broadleaf lovers everywhere. The difference is they're not made with liquor and whiskey. These cigars pay homage to IPA brews.
According to Smithsonian Magazine, IPA brews have been quenching people's thirst since the early 1800s. However, no one seemed to consider combining them with amazing tobacco from around the world until now. Lucky us! In addition to the beer, these particular cigars combine three, astonishingly flavorful tobaccos into one unforgettable smoke.
The centers are a resplendent blend of Connecticut binders and the Dominican Republic's most flavorful fillers. Consequently, they hold together well and offer a beautiful, balanced feel. And as for the final touches, can anyone say Cameroon? They impart a sexy but sweet kick to the cigars that beer drinkers won't want to give up anytime soon.
Broadleaf and beer fans may choose to purchase these toro-size wonders as singles or part of a box of 25. Also, each cigar is individually preserved, whether one buys singles or boxes. So there is never a drop in quality when beer lovers decide to buy their infused cigars in bulk. To learn more about these medium strength cigars and make plans to enjoy one with a cold brew, please contact Corona Cigar Company today.