Posted by Corona Cigar Co. on Nov 2 2016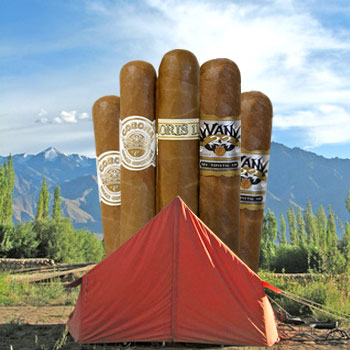 Bring Cigar Samplers On Your Next Camping Trip
Now that summer is in full swing, hopefully you've had a chance to enjoy some fun recreational activities with your friends and family. Between BBQs and afternoons at the lake, this summer is sure to be busy and fun. If you haven't taken a camping trip yet this summer, it's time to plan one.
Invite a few of your best friends and round-up your camping gear, because summer is the perfect time to get away from it all and spend a few nights in the great outdoors. When you're making your list of items to bring on your camping trip, don't forget quality cigars.
A campfire just isn't the same if you don't have cigars to share with your friends. If you don't know everyone's exact taste in cigars that's ok, bring along a few cigar samplers so everyone can try something new.
When you're camping, all the rules are flexible, so don't save the cigars for evening. You can have a cigar after breakfast, when you try the Coffee Break Sampler. These Corona cigars are a customer favorite with five-star reviews. The sampler includes 5 coffee cigars and 5 chocolate cigars, so you can pair the coffee cigars with breakfast and the chocolate cigars with your roasted marshmallows. It will really take your concept of S'mores to a whole new level.
Once you and your friends enjoy cigars together on your camping trip, you will be trying to figure out how to get the next trip planned as soon as possible. For the best selection of quality cigars shipped directly to your door, please contact us.