Posted by Corona Cigar Co. on Feb 8 2018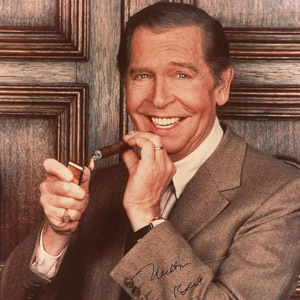 Brand Spotlight: H. Upmann, Funnyman Uncle Miltie Berle's Favorite Cigar
As the story goes, Milton Berle, known as "Uncle Miltie" to millions of fans, headed for Cuba by boat. The occasion? His first comedy gig.
Milton enjoyed another "first" on that visit – lighting up his first cigar. He was 13 years old at the time – and forever hooked on cigar-smoking. We're guessing that this trip cemented for him a lifelong bond with Cuban cigars.
One Cuban cigar in particular. The H. Upmann.
Who is H. Upmann?
Just the creator of one of the world's oldest cigar brands.
Hermann Upmann was a German financier and banker. No question about it. He loved Cuban cigars every bit as much as Uncle Miltie.
The funnyman smoked them.
The moneyman created them.
Upmann had come from a long line of craftsmen and farmers. His ancestors passed down to him their keen business skills and abilities to recognize a solid opportunity when presented with one.
From banker to entrepreneur... and more banking
Hermann had travelled to Cuba on bank business for a client. While there, he spotted an opportunity to buy a cigar factory. He didn't abandon banking, however. He opened a bank on the isle of Cuba, and started life anew.
Now, 174 years later, H. Upmann cigars keep on pleasing and delighting those who are looking for a light-to-medium flavor in their cigars.
Several brands honor Upmann, the cigar-maker, such as the "1844 Reserve" (the year he opened his factory), the "Legacy," and the "Banker."
Uncle Miltie, meanwhile, could have, maybe should have, started his own cigar factory. He was so hooked on his habit that he often tried to convert his cigarette-smoking friends into cigar smokers.
Marilyn Monroe is just one example.
The legendary blonde and Uncle Miltie had had a short fling. Just as his three wives had all liked the smell of cigar smoke, so, too, did Marilyn. Berle viewed that as a golden opportunity to convert her and soon presented her with a box of small cigars. Whether or not she embraced them with that first box is not known.
Surprised that cigar-smoking appeals to women? Don't be! In the '90s, movie star Demi Moore smoked them in public. Has she kept up the habit? (Only her cigar-store owner knows for sure.)
Check out our selection of H. Upmann cigars here at Corona Cigar Company!