Posted by Corona Cigar Co. on Nov 2 2016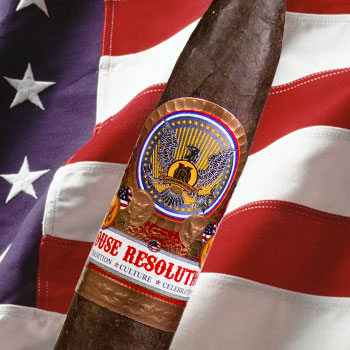 Best Spirited Cigars for Independence Day
Fourth of July will be here soon and we plan on celebrating it with cigars. How about you? Will you be busting out the Old Glory Humidor and sharing an age-old, American tradition with your broadleaf brethren? If so, today's post is likely to be of interest because we'll be sounding off on our patriotic cigar picks.CAO America Cigars: CAO America is the perfect cigar choice for patriotic holidays. They have several sizes that are tailor-made for watching fireworks and sipping American spirits with friends. Each cigar is made with not one, but two wrappers cultivated right here in the good, old United States of America. Plus, the cigar bands sport Old Glory's colors. So, you can't get a more patriotic collection of cigars than CAO America.
House Resolution Cigars: Although they are not made in America, they were created by two American companies in the spirit of a historic moment in our country's history. Yes, we are talking about the 1639 passage of a certain cigar bill. You know the one. It's HR 1639 and we can't think of a better time to enjoy a House Resolution Cigar than on Independence Day.
The American by JC Newman: The American is the first cigar rolled with Florida Sun Grown wrapper, grown by Corona Cigar Co.'s Jeff Borysiewicz in Clermont, Florida. The binder is Connecticut Broadleaf grown by eighth-generation family farmer Jon Foster and the filler is a blend of Foster's Connecticut Havana tobacco with tobaccos grown by the Mennonites in Lancaster County, Pennsylvania.
To learn more about these patriotic cigars and find the right ones for your American-made celebration, please contact us at the Corona Cigar Company today.