Posted by Corona Cigar Co. on Feb 11 2020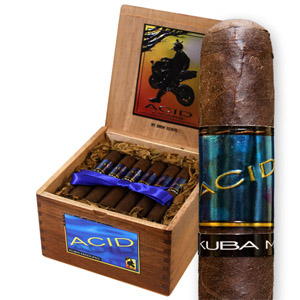 Acid Cigars Are A Beautifully Unique Infused Cigar Line
Acid Cigars by Drew Estate are perhaps the penultimate in infused cigar lines. The different labels are uniquely blended to provide a pleasurably different smoking experience for the cigar smoker looking for quality, variety, and a little shock value.
Unlike most infused cigars which have historically been made with the scraps and leavings from the rolling factory then flavored to hide the off qualities of the stick, Acid cigars start with premium tobaccos. The tobacco is then infused with unconventional flavors in a curing room with various aromatics and herbs before being rolled into either traditional shapes or some truly eye-catching figurados.
The variety of flavors available is astounding. The Blondie is a short powerhouse of a smoke with a sweet tip and complex floral flavors throughout the smoke. The Kuba Kuba is the most popular of the Acid line, with flavors of cocao and a sweetened tip. For a quick smoke with the morning coffee, the Krush Classic Gold Sumatra hits the spot with a dark sweetness that pairs well with your favorite dark roast. The Acid line boasts more than a dozen distinct, distinctive and delicious labels.
The Acid line is founded on the edginess of the cigar subculture. The stolid, dignified feel of the more traditional lines just isn't here. Drew Estate set out to create something entirely new and felt free to thumb their noses at the traditional mindsets of cigar conventional wisdom. The result is flavorful, super premium quality infused cigars that fill a room with something different.
For a truly unique and delicious smoking experience, contact Corona Cigar Co. and let us open your eyes to the beautiful world of Acid Cigars.