Posted by Corona Cigar Co. on Jan 17 2017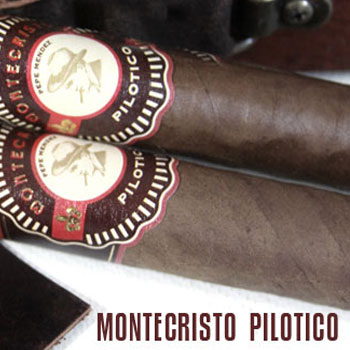 A Classic Over 50 Years In the Making
Before the Cuban Revolution, the Mendez family owned the largest cigarette factory and the best-selling cigarette brand in Cuba. The business was seized by the government as a result of the Revolution and, in 1962, Don Pepe Mendez moved the family to the Cibao Valley in the Dominican Republic. He brought tobacco seeds with him. The flavorful Pilotico tobacco plants descended from those seeds require delicate care and tending and have been a particular passion of the Mendez family since the 1960s.
Now this rare leaf provides the rich, bold, and luxurious flavors that are only available in Montecristo Pilotico Pepe Mendez Cigars. The cigars are expertly hand rolled by Altadis U.S.A.'s famous Grupo de Maestros. Altadis U.S.A. has been crafting great cigars since 1918 and the Montecristo Pilotico Pepe Mendez cigars are sure to be an instant classic.
These medium bodied cigars combine the rare Pilotico long filler tobacco with additional aged long fillers from Nicaragua, a binder from the Dominican Republic and Sumatra wrappers from Ecuador. Together they create a rich and well-balanced smoke. The Montecristo Pepe Mendez Pilotico has a distinctive nutty, leathery, and sweet-tasting flavor, complimented by a rich honey-like aroma.
The double banded cigars come in a wooden suitcase-like box, with 20 in each box and are available in three popular 50 to 52–ring gauge sizes. Montecristo Pilotico Pepe Mendez Robusto Cigars (5x50), the Montecristo Pilotico Pepe Mendez Toro Cigars are 6¼x52 and the Montecristo Pilotico Pepe Mendez #2 Cigars are 6x50.
Please Contact Us for more information on these cigars or any other fine cigar available at Corona Cigar Company.